Browsing the Bouchercon 2008 category...
We overslept a bit after the late night. By the time we got back from dinner and into our room it was not that late but by the time we caught up on email, finished the afternoon blog post, did some work stuff that had to get done — well, it was late. So, the upshot is we've missed the 8:30 panel. There were only two of them today.
However, we've got everything packed and the first load is headed out to the car. Once we get the rest of our stuff into the car and check out we'll be headed to the American Guest of Honor (Laura Lippman) Interview. She'll be interviewed by Michael Koryta and I'm looking forward to it. There is one panel running opposite the interview — but I figured you'd rather hear about the interview. We've missed the other interviews this weekend. That's one of the problems with conventions, you're always making choices. There's usually three or four great things to do during each time period so you're always having to evaluate what you want to get out of a convention and then picking the one thing you can do per time slot.
After the convention, since all the electronics will be packed we'll be finishing up this post when we get home. That means we might not have it in until much later — or much, much, much later — this evening. But we will get it in today.
I also wanted to mention because I've totally forgotten that in case you didn't notice, all the panels are song titles. Each of the panels in the program book are listed along with the band that played it. For example, today's morning panels were: Call Me When You're Sober (Buddha Lounge Ensemble) and
Beginnings (Chicago). The panel opposite the Laura Lippman interview is A Town called Malice by The Jam. It was an interesting thing to do and got me to try to remember the songs.
Okay, back to write up the Laura Lippman interview.
10:00 a.m. American Guest of Honor Interview — Laura Lippman
First up the room was packed. Just about every seat was taken. There were people lined up along the walls and at the back of the room. I got standing space in the back and when I couldn't take standing anymore, I sat on the floor. At least, I had the wall as back support — other people were not as lucky. So, for most of the interview I could hear fine but didn't see anything/anyone except right around the well I was sitting in.
Laura Lippman first talked about her childhood. She said when she was 13, she had the body of an 18 year old. Since she was a very naive 13, she didn't understand when men were hitting on here or what it was they wanted — but it did make her very uncomfortable. She talked of being propositioned from cars on her walk home from school and how it got her upset.
In talking about books and reading, she mentioned that her mother was a children's librarian so of course, Laura read all the Newbury winners. She remembers she learned about banned books when she found Valley of the Dolls hidden in the linen closet. She said that if more people told young readers that they absolutely couldn't read books and locked them away then those books would be the ones they went after to read. She says some books that are classics, she never read because people kept telling her they were good for her. She heard that Lolita was a dirty book. She managed to score a copy and read it but couldn't figure out what made it so bad. She said later she found it that it was bad because of the sex. She read it again every few years until she finally found the sex. The interviewer asked how old she was then and she quipped "35". She said that she learned a lot from Lolita because of the writing style of saying a lot without telling you explicitly what you're being told.
Moving on, she talked about her love for Baltimore. The chance she had to be on the Official Poe Watch on Poe's birthday. The watch looks for the person who leaves the three roses and the half bottle of Cognac on his grave each year. One of the things she learned is that the watch is not so much there to find out who the person is but to make sure no one interferes with that person. (I think this is great because it would take the magic out of it to know exactly who it is that does this each year.) Laura said that by now this is the third person who has taken on the responsibility to deliver the roses and cognac. This delivery will be in one of her books but only tangentially to the story and not as a central element.
She talked of the differences between city and suburban life and their apparent and real safety. She believes that the suburbs are much scarier than the city. Both have crime but you expect it in the city and there is the illusion of safety in the suburbs.
She talked about life as a journalist and reporter. Her experiences and some of the stories she worked on. She seems to have worked on a lot of stories dealing with young people who have committed crimes. She talked about young criminals and the justice system. She's happier as a writer than as a journalists — and says she learned more writing skills in creative writing classes than in journalism classes.
All too soon the time was up. We headed to our car and home. Others went on to the awards ceremony. Hopefully, the Anthony Award Winners will be on line soon. But I put in the link so you can find them easily.
We had a wonderful time at Bouchercon. Indianappolis, Indiana will be the site of Bouchercon 2009.
As I said, we missed the first panel this afternoon because we didn't check the schedule closely enough. So tip to the convention goer, don't assume anything about a schedule — always check the times.
3 p.m. Dark Side of the Moon: How crime fiction reveals the darkness of human emotions.
Panelists: Jane Cleland, Bruce Cook, John Billheimer (moderator), Troy Cook, Carolyn Hart, and Sheila York.
The first question was what makes a book dark. The first and best answer that everyone sort of played off of was hopelessness. Hopelessness means there's no order coming out of the chaos. There's no redemption. There's only despair.
There's darkness and light in everyone. No one is irredeemably evil or totally good. We're all a mix and the darkness of a book is where we focus. Everyone is shades of grey and while that makes better characters, it also means that each of us has a capability for evil. It's the temptation and whether we resist or take responsibility for our actions that determine the darkness of the character or of the book. (Also, the darkness of the book is related to just how high the body count is and how much hopelessness or despair is a major theme.)
Murder is often by a family member or friend, so the size of the town or city, or where it is located has little to do with murder. Cozies are supposedly less violent and dark but Carolyn Hart mentioned (and I'm totally paraphrasing here) that in one of Agatha Christie's book a woman is poisoned while with her family. The woman knows she's dying from poison and her whole family is there but she doesn't know who is killing her. When you think about it, there is nothing, absolutely nothing, cozy about that.
A weird fact brought up was that the number one cause of death among pregnant women is murder. So, family, not some stranger, is usually the murderer.
People are not totally good or evil but we are capable of being good or evil.
4:30 p.m. Blue Turns to Grey: Writing in more than one genre.
Panelists: James O. Born, Oline Cogdill (moderator), John Lutz, John Maddox Roberts, Richard Thompson.
All the panelists agreed that breaking out and writing something different once in a while helps to bring a freshness to your work when you return to the series or genre that you write in.
All books are mysteries in some way. So, it's the trappings and setting that change when you change genres but not the essential elements of telling a story. As long as the story has human characters you will have mysteries.
That's pretty much it for today. We're going to a party and then out to dinner. Tomorrow is the last day of the convention.
We got up early again to make the 8:30 a.m. panel. I can already tell these early mornings and late nights combined are taking their toll. The function rooms were particularly warm this morning which just made being tired even worse — as exciting and interesting as the panels we sat in this morning were — well, it was just difficult to concentrate and take notes. So, today's panel descriptions may not be as extensive as they were yesterday. I'll try to do better this afternoon. I've put on a short sleeved shirt, splashed cold water in my face and will have some more caffeine.
8:30 a.m. Taking Care of Business: The business of publishing.
Panelists: Madeira James (moderator), David Hale Smith, Maggie Griffin, Ben LeRoy, Sarah Weinman, and Scott Miller.
This panel was a mix of agents, publishers, a bookstore owner, and a reviewer. They discussed, among other topics, the future of crime fiction. Basically, the technology is changing so fast that it's difficult to predict where things are going. There is a belief that ebooks will become a bigger part of the culture. Some mentioned an author who yesterday had a person come up and tell him that she was so impressed with his talk on the panel that she'd used her Kindle to buy his books during the panel. The consensus was that storytelling is an important part of our makeup and no matter how much the technology changes there will still be stories to be told and people who want to hear/read/watch those stories.
Each panelist was asked to recommend two books that they thought were exceptional. Unfortunately, not everyone was clear enough to get the title and I sure as heck didn't get the author names for all of them — so, I'm going to list what I have (I hadn't read any of the recommended books and I'll be looking them up but here's what I got):
The Art of Breaking Glass by Matthew Hall (Grand Central Publishing)
Black and White by Lewis Shiner (Subterranean Press)
The Kind One by Tom Epperson (Five Star Mystery Series)
author Jonathan Tropper — I didn't catch the title and he has quite a few books out.
The Hit by Jere Hoar (NAL Trade)
Red Jungle is the book title, unfortunately I didn't catch the author's name and there are several books of this title that it might be. If you know which one they meant let me know and I'll change this entry. [NOTE: Thanks to Maggie, I now know the author is Kent Harrington.]
Land of a Hundred Wonders by Lesley Kagen (NAL Trade)
Severance Package by Duane Swierczynski (St. Martin's Minotaur)
Reed Colman was mentioned but I didn't get a book title for this author either.
The panelists also said to follow the instructions on the agent's or publisher's website/book entry or whatever — exactly. Don't deviate from what they ask for. Follow the guidelines (this has come up on many panels so take it to heart). Use the agent's/publisher's name — make sure to get it right. Don't over hype your book. Be business like in your query letter and compare it to other books they've published or that they've represented. Do your homework.
10:00 a.m. Smooth Criminal: Making the bad guys likable.
Panelists: Sandra Ruttan (moderator), Craig McDonald, F. Paul Wilson, Blake Crouch, and Brett Battles.
There was general agreement that if the bad guy had a code, readers could more readily accept him/her. You don't necessarily need to agree with the code of behavior, or understand it, but if they bad guy has one, they become more human. The difference between a bad guy and an evil guy is the code they follow.
Another phrase that stood out to me: A hero is only as 'good' as the villain the hero is up against. It seems that lately the hero is getting darker as the opponent is getting darker. In real life we're all shades of grey and in books, it is the shades of grey that add interest to the characters.
11:30 a.m. Psycho Killer: Why…so fascinated by serial killers?
Panelists: Brian Lindesmith (moderator), Alan Jacobson, Mark Billingham, Jonathan Hayes, and Michelle Gagnon.
People/readers can understand killing for money or in passion — they may not think it justified, but they can understand how it happens. However, serial killers usually stalk and kill total strangers for reasons that are totally unknown, and usually unknowable — which makes them fascinating.
The serial killer is not motiveless, it just isn't a motive that most of us would understand — at the core the motive usually reduces to a sexual one. Female serial killers are very rare — the audience of mostly women (about 75%) seemed to think it was because they seldom get caught, other than the black widow type killers
The problem of writing about serial killers is that the victims and their families usually get lost in the story as the bodies mount up. They come on for a paragraph or two for set up and then end up on a slab. The victims should make more of a connection to the readers since they are victims and the serial killer is NOT a hero or even an anti-hero. The victims are important because they've lost their lives. Compassion for the victims and their families is very important.
And no panel on serial killers seems to end without a mention of Dexter. Dexter is a serial killer who goes after those people who got away with their crimes. He represents vigilante justice which has a long history in the US and most people have mixed feelings about. Dexter taps into those mixed feelings — after all, he only kills bad guys.
It was an interesting discussion and issues were raised that are worth thinking about.
After the panel, we broke for lunch.  But first, we took another turn through the Dealers' Room. I was looking to pick up a few books that were mentioned in the panels and check out the authors that we'd just heard from but didn't find what I'd been looking for. (Hmmmm. Maybe I need a Kindle. Actually, I probably do but I'm waiting for the second generation and the features that I want in an ebook reader.)
I just noticed we're already missing the first panel of the afternoon. Usually lunch break has been an hour and a half and today — surprise — it's only an hour and I didn't pay attention. a definite sign of too little coffee in the blood stream.
[Hyperion: Or in my case as of late, too much blood in my caffeine stream]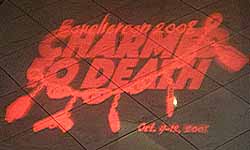 Something a bit different. Don't know how long it's been there in the lobby, but I just noticed the Bouchercon logo of Charmed to Death is displayed on the lobby floor in red light. It may take me a while to wake up to my surroundings but I get there eventually. Since, I spotted it right off this afternoon on our way out of the hotel, I can only imagine that it was the previous lack of caffeine that has now been rectified that did it.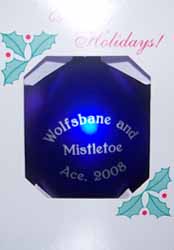 I forgot to mention that when we were at the Wolfsbane and Mistletoe panel this morning, they had some Christmas ornaments to give out to the attendees. We managed to get one before they ran out. This was quite appropriate since the theme is werewolves at Christmas. I'll certainly think of this book when we put the ornament on our tree this December.
We missed the 1:30 p.m. panel. So, instead went to the Dealers' Room again. This time I really took my time looking at all the books. I was fun looking at all the covers of books that I read in ARC form without the covers. It was also appalling to see just how many books I wanted to buy. Now I must figure out which ones I really can't do without because I don't know when I'll get to read anything since my TBR (to be read) pile is now several piles and a couple of boxes. I slip these books in between the books that I read for review.  When I get the chance, I'll either review them in the appropriate zine, here on the blog, or on Amazon, or a combination of these venues. Too many books, not enough time.
3:00 p.m. Time Is Tight: Keeping the plot moving.
Panelists: D.H. Dublin, Robert Ellis, Nancy-Stephanie Stone (moderator), David Hewson, P.D. Martin, Pick Mofina.
Most of the panelists said they write their stories in contemporary time. The reason is because it's a bit easier since, if they use forensics and other plot devices that require a lot of research, at least they don't need to also research the historical era of the book, because they're living it. However, it does bring up the problem that technology changes so fast that sometimes by the time of publication it could be out of date.
Panelists discussed the pros and cons of 1st person and 3rd person. 3rd person give more scope in relaying information but 1st person, especially 1st person present tense, gives much more immediacy.
Most panelists say they play with time to up the tension and move the plot forward. However, most consider their story to take place over anywhere between 3-4 days or 3-6 weeks. Time, one said, is a movement or a journey, and books are also a journey, and time moves the plot along.
4:30 p.m. The Power of Goodbye: Why endings are important.
Panelists: Brent Ghelfi, David Ellis, Harlan Corben, Susan Dunlap, Mike Lawson, Jamie Agnew (moderator)
Statements that resonated with me:
End doesn't have to be a surprise but it does need to be satisfying.
Ending also has to be fair for the reader. It shouldn't be a cheat or a rabbit out of the hat.
Some of the authors start with the ending and then begin at the beginning and the whole thing drives to the end. Others know the beginning and the end — the trick is to connect the two.
Harlan Coben said (and I'm paraphrasing) that many people say that mysteries are puzzles but he doesn't get it, because puzzles give you the picture on the box, and no one puts a puzzle together and doesn't figure out what it is until the last piece goes it. He sees mysteries as a camera — you first see the object as fuzzy and gradually you get it to come into focus. As you write you're refining the focus to get to the end.
Then they talked about series. Some thought that series books have a shelf life. In that you can only have a character have so many life changing cathartic experiences before the character is either mad or unrealistic.
The difference between an amateur and profession is that the amateur is "everyone". It's the average person who takes that wrong step and ends up in the middle of something they can't handle. The plot puts them in a situation outside of their comfort zone.
That's it for tonight. The Shamus Awards dinner is tonight but unfortunately we're not able to go. I'm hoping that they'll have the winners on their web-blog soon.
[Hyperion: This was done last night, but someone forgot to hit the publish button.  I must now go and absolve my guilt by purchasing Gayle coffee.]
We actually made it to the 8:30 a.m. panel this morning. The protesters were already picketing the hotel and happened to be just under our window. Evidently the Sheraton, here in Baltimore, is negotiating with their staff and things are not going well. The union had asked the convention to cancel but since that means the organizers are then responsible to pay all costs of the contract (which is a tremendous financial burden) it was impossible to cancel or to move to another venue. So, there's is a picket line just outside the front of the hotel. I was a union steward years ago so this is a bit of a tough situation. But to eat or sightsee, I've got to cross that line because I'm staying here in the hotel. It's a bit of an uncomfortable situation for all the conference attendees.
8:30 a.m. I Fought The Law: Has CSI ruined the way we view reality? Panelists: John French (moderator), Lee Lofland, Gwen Freeman, Jonathan Hayes, Cody McFadyen.
There seemed to be no doubt that forensic science and CSI had upped the stakes in trials as people expected there to be a lot of forensic evidence and less guesswork in the prosecution of a person.
Shows and movies and authors the panel thought to have gotten it right: Bones, Medium, Dexter (except for the blood spatter thing), Jeffrey Deaver, James Lee Burke, Robert Fate, and Lee Childs.
Mentioned that criminals were also getting educated. For example, most rapists now wear condoms thinking that keeps them from leaving DNA evidence at the scene but usually they tear open the condom packaging with their teeth leaving DNA evidence. McFadyen mentioned that the profiles of rapists were changing to take into account the new mindset of those who do not wear condoms.
Evidently, bloody evidence doesn't go into plastic bags — even though they always do that in the shows.
That Urban justice departments usually have far more people in their crime scene divisions working on the evidence than rural areas, and that it probably meant that you have a better chance of finding the criminal or getting to the truth of the evidence in an urban area.
On the subject of digital evidence, they stressed the need for a very, very, very, strict chain of evidence when using/collecting/enhancing or whatever digital evidence of any kind.
10:00 a.m. Stop I'm Already Dead: Keeping a series interesting.
Panelists: Jerry Healy, Felicia Donovan, Jeff Cohen (moderator), Mark de Castrique, and Hope McIntyre.
Suggestions for keeping a series fresh and interesting to the readers included such things as:
Tie the plot into something that is controversial or socially important and with legs enough to last until the book hits the shelves. That keeps it relevant to the reader.
Sometimes to keep it fresh, the author needs to stop and do something else for a while so they approach the characters and series with a new outlook.
If it's going to be a series, make sure you like your characters because you are going to be spending a lot of time with them. If you get sick of them, it will show to the reader.
Have enough continuing characters of depth so that you have a pool of secondary characters to draw on for plot.
Let characters grow or let the relationships between the characters grow. They shouldn't necessarily be stagnant but some successful series do have non-changing characters.
Having your main character being put into the "fish out of water" plot seems to keep it fresh. In other words, take the character out of the comfort zone. If an urbanite, put the character in a rural setting — whatever make the character uncomfortable.
The panel got into a side discussion about the importance of the author's last name for placement of books in bookstores to maximize sales. Having a name that puts you about eye level seems to be best.
We walked quickly through the dealer's room before the next panel to get an idea of what was there. Nearly all the dealers are book sellers, which is great for me. The silent auction items are to the back of the room and there are some outstanding collections of items up for bid.
I also noticed a wheelchair bound person stumped as the panel he wanted to attend was up a set of stairs and there was no ramp or lift to get up there. Some thought if he left the hotel got into the plaza outside and went around he might be able to get on that level. Another woman I talked with, who had a walker, said that at one point to get to the lift she had to go up a flight of stairs. The hotel is not quite as accessible as some of the attendees would like.
11:30 a.m. Werewolves of London: Wolfsbane and Mistletoe, a Christmas Anthology.
Panelists: Toni L.P. Kelner (moderator), J.A. Konrath, Alan Gordon, Charlaine Harris, Donna Andrews, Dana Cameron, and Kat Richardson.
This new anthology, just out in bookstores, is of stories that are about werewolves and Christmas. The members of the panel were all contributors to the anthology and Toni and Charlaine were the editors. The panel talked about their stories and their take on werewolves. There was also mention of the duality of werewolves who are human most of the month and then turn to the "other". They retain their humanity and yet know what they become — this is a great opportunity for writers to layer on a lot of issues.
When asked about worldbuilding and how difficult it is to do with short stories vs long. Toni had an interesting analogy. All the authors agreed that world building was easier for short stories. Toni said it's like having company that never leaves the living room so you don't have to clean the rest of the house. That seemed so great an idea — in a short story you're just essentially telling one thing and you don't need a full blown world because a lot of it is just accepted due to the story length, and you don't need a lot of detail. In a novel you need to know how everything works because it's a longer work and people will begin to wonder.
Now it's our lunch break — and we're hoping to post this before going back to the afternoon panels.
Today is the first day of Bouchercon, Charmed to Death, being held in Baltimore, Maryland from October 9th to Sunday, October 12th. Since we live in Maryland, we debated driving up each day or staying at the hotel but finally got a hotel room. The deciding factors were the price of gasoline, the time to drive up here (about 1 hour 20 minutes if not during rush hour), and the fact that programming starts at 8:30 a.m.
We didn't have an auspicious beginning. Hyperion ended up working more than forty hours between Monday and Wednesday — and thus was a bit sleep deprived.  So, instead of getting out of the house early this morning, we ended up setting out a bit after noon — running a few errands on the way up state and arriving in time to check in, settle in our room and get to the last panel of that day at 4:30.
4:30 PM: Do You Want To Know a Secret? What I wish I knew starting out. Panelists: Jan Brogan, Hallie Ephron, Rosemary Harris, Hank Phillippi Ryan, and Roberta Isleib.
This was an amazing panel of useful information for any beginning writer. Each of the panelists talked about what they wish they'd known before they got published. The discussion/advice covered many areas including: writing the first draft (page limits per day, word limits per day, writing front to back, skipping around writing scenes and then connecting, outlining, critique groups or not…), revising (when you finish the first draft, wait two weeks minimum then read it through taking notes on what works and what doesn't — don't revise right off, just read and take notes. Once you finish go over and read your notes. At this point you begin your revisions). They also discussed getting agents (difficult, but always follow their instruction in Writer's Market or whatever publication you saw the listing in — if they want a query letter send query letter, if they want a chapter send a chapter — do what they ask in the manner they want it). Publicity: small or large bookmarks, postcards, magnets (remember they're heavy to lug around), little baggies with gifts, the key is — is it fun, is it wasting your time?). There was a lot of other material covered — but that's what I remember and it's all good advice.
We then broke for supper. The Opening Ceremony was scheduled for 7 PM.
We walked down to the harbor. The harbor has a mall and food court and lots of restaurants. It was also a chance to stretch our legs and take a breather. We ate and walked back, noting lots of fast food places closer to the hotel for maybe other days. We got back just in time to drop our stuff in our room and go back for opening ceremonies.
7 PM: Opening Ceremonies.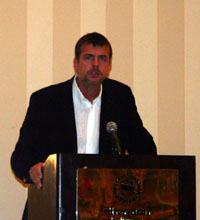 The Chairs of the convention, Ruth Jordan and Judy Bobalik, introduced the Toastmaster for Bouchercon 2008, Mark Billingham. He gave a short welcome and talk and had us all laughing. He introduced each of the Guests of Honor. The guest then came up and gave a short talk.
American Guest of Honor – Laura Lippman
International Guest of Honor – John Harvey
Distinguished Contribution to the Genre: Lawrence BLock
Lifetime Achievement – Barbara Peters and Robert Rosenwald of Poison Pen Press
Fan Guest of Honor – Thalia Proct
Then they started giving out awards. I know I'm probably actually giving them out of order but this is the way I remember it. (No wonder eye witnesses are so untrustworthy.)
First up was the Macavity Awards by Mystery Readers International. The award is a cat curled up on two books that are slightly offset.
Best Mystery Novel: Laura Lippman: What the Dead Know (Morrow)
Best First Mystery: Tana French: In the Woods (Hodder & Stoughton*/Viking)
Best Mystery Short Story: Rhys Bowen: "Please Watch Your Step" (The Strand Magazine, Spring 2007)
Best Mystery Non-Fiction: Roger Sobin, editor/compiler: The Essential Mystery Lists: For Readers,
Collectors, and Librarians (Poisoned Pen Press)
Sue Feder Memorial Historical Mystery: Ariana Franklin: Mistress of the Art of Death (Putnam)
Then the Barry Awards were presented. This was a lovely plaque. The awards are from Deadly Pleasures and Mystery News magazines. The award is named after Barry Gardner a mystery reviewer. I would really like to list the winners of the award but I didn't have my notebook with me and I don't want to get it wrong. I'm sure the winners will be up on their website soon. Or if I find a copy of the winner list somewhere I'll add it in here. [Hyperion: I'm going to check with Press Services first thing in the morning]
Crimespree then announced their award winners. This award was also a plaque. From my chair it looked like it was writing on one half (probably the details and year) and then a book cover on the other half. It looked really nice.:
Favorite Book of 2007: The Unquiet by John Connolly (Atria)
Favorite Ongoing Series: Inspector Banks by Peter Robinson (Morrow)
Favorite First Novel: Big City, Bad Blood by Sean Chercover (Morrow)
Favorite Anthology: Expletive Deleted edited by Jennifer Jordan (Bleak House Books)
Favorite Comic Book Writer: Brian Azzarello for 100 Bullets.
The audience was then dismissed to have fun, read, party, and track down friends old and new. We on the other hand, took some more photos and then scurried to our room to send you this update.
We'll be updating regularly from the convention and then will do an overview report on Gumshoe Review after the convention.