Browsing the Conventions category...
SFWA, Science Fiction and Fantasy Writers of American, announced the winners of the this year's Nebula Awards at their annual Nebula Awards Weekend held in Washington, DC. You can read the full list of nominees and winners on the SFWA website.
Best Novel: Blackout/All Clear, Connie Willis (Spectra)
Best Novella: "The Lady Who Plucked Red Flowers Beneath the Queen's Window," Rachel Swirsky (Subterranean Magazine, Summer 2010)
Best Novellette: "That Leviathan, Whom Thou Hast Made," Eric James Stone (Analog Science Fiction and Fact, 9/10)
Best Short Story (a tie):
"How Interesting: A Tiny Man," Harlan Ellison (Realms of Fantasy, 2/10)
"Ponies," Kij Johnson (Tor.com 1/17/10)
Also presented:
SFWA Service Award: John E. Johnston III
Solstice Awards:
Alice B. Sheldon / James Tiptree, Jr.
Michael Whelan
Ray Bradbury Award for Outstanding Dramatic Presentation: Inception Christopher Nolan (director), Christopher Nolan (Screenplay) (Universal)
Andre Norton Award: I Shall Wear Midnight, Terry Pratchett (Gollancz, Harper).
Tags: fantasy, science fiction
This weekend I'll be at the Nebula Awards Weekend. I'm doing a workshop with Paul Haggerty on Improving Your Website. I'll also be volunteering here and there during the convention — starting with bag stuffing on Thursday.
I'm starting to get anxious about the workshop. We've been working on putting the material together for weeks. But, I've discovered after years of doing workshops that no matter how much you prepare someone or everyone will ask questions or need information that you never dreamed you'd need. It's been a blast putting this one together and I've learned a lot from looking at sites and discussing the pros and cons of each with Paul. The upshot is that I need to update my website and blog. (Guess what I'll be doing after this weekend — kind of the shoemaker's children syndrome.)
Meanwhile, I'm really looking forward to meeting lots of people and learning a lot. If you're going to be there, look me up I'm always up to making new friends.
Tags: Nebula Awards
The Washington Science Fiction Association is pleased to announce the finalists for the 2010 WSFA Small Press Award for Short Fiction (published in 2009)
"each thing i show you is a piece of my death" by Gemma Files and Stephen J. Barringer, published in Clockwork Phoenix 2, edited by Mike Allen, Norilana Books (July 2009).

"Images of Anna" by Nancy Kress, published in Fantasy Magazine, edited by Cat Rambo (September 2009).

"James and the Dark Grimoire" by Kevin Lauderdale, published in Cthulhu Unbound, edited by Thomas Brannan and John Sunseri, Permuted Press, (March 2009).

"Race to the Moon" by Kyell Gold, published in New Fables, Summer 2009,  edited by Tim Susman, Sofawolf Press  (July 2009).

"Sinner, Baker, Fabulist, Priest; Red Mask, Black Mask, Gentleman, Beast" by Eugie Foster, published in Interzone (January 2009) / Apex Magazine (August  2009), edited by Andy Cox (Interzone) / Catherynne M. Valente (Apex).

"Siren Beat" by Tansy Rayner Roberts, published in Twelfth Planet, edited by Alisa Krasnostein (October 2009).

"The Pirate Captain's Daughter" by Yoon Ha Lee, published in Beneath Ceaseless Skies, Issue #27, 10/08/2009, edited Scott H. Andrews.

"The Very Difficult Diwali of Sub-Inspector Gurushankar Rajaram" by Jeff Soesbe, published in DayBreak Magazine, edited by Jetse de Vries (October 2009).
The award honors the efforts of small press publishers in providing a critical venue for short fiction in the area of speculative fiction. The award showcases the best original short fiction published by small presses in the previous year (2009). An unusual feature of the selection process is that all voting is done with the identity of the author (and publisher) hidden so that the final choice is based solely on the quality of the story.
The winner is chosen by the members of the Washington Science Fiction Association (www.wsfa.org) and will be presented at their annual convention, Capclave (www.capclave.org), held this year on October 22-24th in Rockville, Maryland.
We drove up from Maryland to Burlington, MA yesterday.  We got a late start and didn't arrive until 10:30 p.m., so we missed the Thursday night programming.  On Thursday's Readercon has an evening program schedule that is open to the public.  It's a way for people to see what a convention is like in order to determine if they want to come back for the rest of the weekend and buy a membership.
Being exhausted we just checked in, set up the computers and tried to get to sleep.  Unfortunately, my laptop decided it didn't want to work either — guess it was a rough trip in the back of the car.  After a few searches on the program that was causing the problem, we found a fix and downloaded it to Hyperion's machine and then installed on mine.  So, I'm now back to limping along with only the usual problems until the new laptop arrives later this month.
Friday:
We manged in spite of the late night to get up, find food, get to Registration to get our badges, and begin to set up the SFRevu table in the Dealer's Room.  We were surprised at how much easier it was to get set up when we had from 9 a.m. to 3 p.m. to set up.  Of course, we also had to figure out how to work around the things that we forgot — like our signs.  Luckily, the hotel has a business center with a printer.  Once we finished the setup, I'd missed all the morning program items that I'd hoped to see but that's life and decision making — you have to miss something to do others.


2 p.m. I Don't Think We've Ever Been in Kansas: Non-Western Cultures in Fantasy.
Panelists: Nalo Hopkinson, Shariann Lewitt, Theodora Goss (Leader), Catherynne M. Valente, and Darrell Schweitzer.
Panel Description:  When it comes to settings, authors of both epic and urban fantasy— as attested by such recent novels as Daniel Fox's Dragon in Chains, Ekaterina Sedia's The Secret History of Moscow, and Nnedi Okorafor's Who Fears Death—are increasingly diversifying beyond the mainstay models of North America or western Europe. For some writers and readers, the choice of geographies offers a chance to stretch beyond their comfort zones; for others, it can be an exploration and a reclamation of their heritage. How do these different approaches  affect  the  fiction they create—and how do  they affect our readings of the  books?
Panelists discussed ways to write a story using a culture not your own: respect it, talk to people who are native to that culture, read books written by people native to the culture, don't exotic-ise it, look at the jokes and sayings of the culture, understand your assumptions and examine them closely to see if they are actually true.
Schweitzer suggest that if you offer details make sure they are right.
There was a  lot of discussion on using other people's culture and stories.  The analogy that was decided upon was that telling another culture's stories was like renting or leasing it — you have to return the story in the same condition that you got it.  You can't trash it or abuse it because it isn't yours.
Also, remember, no matter what you do as a writer, people will get angry with you so you have to do what you feel is right for you and the story and the culture.  People will get angry no matter what so be true to yourself and your internal moral compass.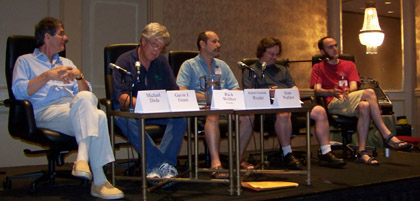 3 p.m. The Best of the Small Press.
Panelists: Michael Dirda, Rick Wilber (leader), Robert Freeman Wexler, Sean Wallace, and Gavin J. Grant.
Panel Description: These days, many of the best novels and novellas, collections and anthologies are published by small presses in print runs that may only number in the hundreds. Most of these cannot be found on the shelves of chain bookstores, or even most independent and specialty shops. We'll highlight the best works recently published by small presses—including many that Readercon attendees may not have heard about.
The panelists agreed that small presses or independent presses are where some of the best and most cutting edge writing is being published.
There was some discussion of unit prices and how they varied by the size of the print run, problems with distribution, pricing, and the effect of ebooks and whether small presses did ebooks (they do).
Books of note: Shambling Towards Hiroshima by James Morrow, Tachyon Publications; 1st edition (February 1, 2009); The Babylonian Trilogy by Sebastien Doubinski, PS Publishing; Limited and signed ed edition (May 1, 2009); The World More Full of Weeping by Robert J. Wiersema and Erik Mohr, ChiZine Publications; 1st edition (September 15, 2009); anything by Ashtree Publishing; The Third Bear by Jeff VanderMeer, Tachyon Publications (July 15, 2010);  Small Beer Press; PS Publishing; Aqueduct Press; Fairway Press; and other book titles, authors, and publishers that I was too far behind in writing to catch.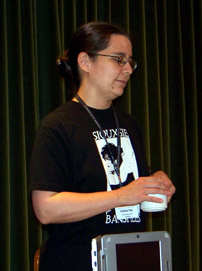 4 p.m. How Electrons Have Changed Writing and Reading. Cecilia Tan (speaker, this was a talk/discussion).
Discussants: Inanna Arthen, Leah Bobet, K. Tempest Bradford, Jeffrey A. Carver, Barbara Krasnoff, K.A. Laity.
Description: Ebooks, the Internet, social media networks, Paypal — have these really changed the writer/reader relationship forever? Not surprisingly, sf readers are early adopters of new tech and sf publishers are leading the way in new content delivery. Is it really possible with new tech for a writer to cut out the publisher and still make a living? Is the writer who wants to "just write" doomed to obscurity now? Writers,  what  forays  into the new frontier of  electronic publishing have  you made and what did  you  find out  there  in the  wild lands? Readers, what have you enjoyed and  sought  out,  what would you welcome?
The talk went over the changes over the last few years in publishing and eReader technology and Amazon's Kindle and B&N's nook among others.  A writer who has the eRights to their books and who puts it in Kindle format on Amazon can get 70% of the book price if priced between 2.99 and 9.99.  They mentioned that some authors are making money on their back list that is out of print by putting up the ebooks on various sites.
There was also some discussion of social media and other options such as subscription stories and serialization on blogs.  Things are changing.  This also puts more of the selling and PR work on the author and some are better at it than others.
Cecilia Tan will have a more coverage of this on her website.
Next I took a break to print up my note cards for my 6 p.m. panel.


6 p.m. Global Warming and Science Fiction.
Panelists: Steven Popkes, Paul Di Filippo, Gayle Surrette (moderator), Alexander Jablokov, and Paolo Bacigalupi.
Panel Description: The dangers of nuclear weapons and nuclear war were common themes in mid-­twentieth century sf, even before Hiroshima and Nagasaki. The nearest comparable danger today is anthropogenic global warming. It's our impression that sf has not given to AGW the same level of attention that it gave to nuclear matters in the past, and has more  often treated  the  issue as  worldbuilding background  than  placed it at the centers of  stories. Are we correct? Might this stem from today's attention to extrapolation of multiple, simultaneous trends, and to the difficulty of writing about the near future? Does AGW's more uncertain set of consequences make it harder to dramatize? What role does the controversy about the existence of a threat play? What approaches have gone yet untried? We consider sf's take on  a warming world.
Since this was the panel I moderated, I can't really say much about it, except that I thought the panelists made some very interesting and thought provoking comments.  Some that I remember:
That GW isn't like nuclear war.  We didn't then have the bombs in our houses.  We do have cars, lawn mowers, and other devices that put out carbon and cause greenhouse gasses.
The problem is that we're all idiots and who wants to write that? — it's not very satisfying.  In most of the past problems, it wasn't our fault.  We could blame someone else, but now it's us.
The story can be about GW if it's in the background but it's not a single item — it effects the economy, food production, transportation, the ecology, everything and those impacts need to show in the characters lives.  (very paraphrased).
No matter what happens with GW there will be winners and losers.  It may change the balance of who has power.
Once the panel was over we went to find food and then talked with friends and just called it a day.  Tomorrow is another full day of programming items and the Dealer's Room wall also be open all day.
Today was sort of a loss on getting the home/house/shopping stuff done because I had a Capclave Committee Meeting scheduled this afternoon.
Nearly the entire committee was in attendance and those who couldn't make it sent their reports.  It looks like we're on track for memberships compared to previous years at this time.  This year Capclave will be capping membership at 500.  So, if you're dithering please sign up soon. Right now the membership cost is $45.  There will be another price increase on July 1st.  So, the longer you wait the more expensive it gets.
Capclave will be from October 22 to 24th, 2010 at the Rockville Hilton.  Guests of Honor are: Connie Willis, Ann VanderMeer, and Jeff VanderMeer.  Check out our website and the Capclave blog.
We're putting together ideas for programming. We could use your input on what panels and workshops you'd like to see at the convention. Really, let us know. Email programming with your ideas and suggestions.
If you'd like to volunteer some of your time to help out at the convention, send me email and let me know what area you'd like to work in and how many hours you'd be willing to commit. We'll be putting a volunteer form up on the Capclave site soon but you can let me know by emailing me earlier.
Now to knit some more on my sock. Have a good evening everyone.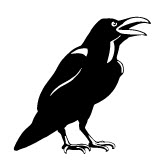 At first we didn't think we'd make it to this year's World Fantasy Convention. Hyperion and I are near championship procrastinators, but we manage to buy memberships from two people who couldn't make it at the last minute. Then plane reservations and a hotel room– we managed to get all our ducks in a row and get here (of course I had insomnia on Tuesday and we haven't slept since Tuesday night and it's now Thursday. We're holding out until west coast evening to try to sleep to get adjusted to the time difference between here and the east coast). [Hyperion: That's over 32 hours of up and at-em without a wink of sleep.  Just in case you're interested.]
World Fantasy celebrates the fantastic in literature. Each convention usually has a theme or idea around which the panels and program items play. This year celebrates the 200th birthday of Edgar Allan Poe. Poe did much to codify and promote the short story and to create an American Literature. Earlier we sat in on a panel called: Poe's Influence (4:00 PM). Panelists were Jon DeCles (moderator), John Paul Langan, John Levitt, and Kat Richardson.
Poe essential discovered Hawthorne. He also was an influence on Dickens, Lovecraft, many of the authors that wrote in a similar vein, and the early writers of Weird Tales. He also did much to influence the noir mystery genre. The panelists brought up many examples and kept saying how until they started putting their thoughts out there in the open they hadn't fully grasped just how influential Poe really was.
Known for his horror, poetry, and mysteries, Poe is still read today. His works are taught in schools or at least assigned in most high schools — somehow Poe is under the radar that seems to keep most genre writers off the curriculum.
There was also some discussion of alcoholism and the link there seems to be with writers and alcohol and musicians and other drugs. Much wondering was done about if he could write so much while smashed, what could have been done sober. Worth a ponder or more, I guess. Did the drinking keep him from being even more popular or not? Would he have been even better without his drinking — he'd for sure have been more popular during his lifetime.
Next was opening ceremonies where we were introduced to the Guests of Honor and each had a chance to speak. This year's guests are: Garth Nix, Lisa Snellings, Michael Swanwick, Ann VanderMeer, Jeff VanderMeer, Zoran Živkovi?, Donald Sidney-Fryer, and Richard A. Lupoff. The Toastmaster is Jay Lake who did a masterful job of keeping things moving with no dull moments.
We're pretty much in need of a good nights sleep in order to get our brains rebooted. As you can tell — I completely forgot and left my camera in our hotel room. Tomorrow I'll try to do photos — really.
Well we got a bit of a late start this morning having gotten in so late last night and then doing some of the things to the website, printing material and other odd jobs that needed to be done.
So, up and at the world this morning. We packed for the hotel. Finished loading the car with stuff for the SFRevu table. Checked that we had everything a couple of time and then took off. Traffic was terrible — it was raining. In most places rain isn't really a problem for driving but with so many cars around her (DC area) the road get quite slick — but, even so 40 miles an hour on the Beltway was a bit slow even for here. Finally we arrived at the hotel and began unloading the car, only to find we'd forgotten the SFRevu sign for our table. But no way were we driving back home for this.
Before we'd even set up our table, I found that I was needed to sell Reincarnations next to the Registration table until another person arrived to take over. This was rather fun. I got to talk to people after they got their badges and made sure the people who were new to Capclave knew that there was a guide for new attendees explaining some of the activities available and some of the other items that were going on this weekend. I managed to sell two books. Then I got relieved and checked on Hyperion in the Dealers' Room. I took over there so he could check into the hotel.
Once we had a room and could get rid of the rest of our stuff I thought I'd check out a few panels and see how things went. Instead, I managed to fill two positions on my Capclave 2010 committee. Then it was helping someone find the table they'd asked for to advertise their convention. Then it was taking over for Hyperion again so he could set up our network for a panel on LibraryThing and other online library/book sites. The SFRevu table got lots of browsers and many friends stopped by but we didn't get another break until the room closed.
Then I ended up helping out at Registration, which had a huge line and needed to reopen for another couple of hours. I hadn't worked registration before so this was quite a learning experience. Even better, an experienced person was on hand to answer/help with the difficult questions. I now have a better understanding of the process.
Finally, at about 9PM we managed to get away to go find dinner (which was really lunch as well). We just wanted something quick and spotted an Arby's. On the way back to the hotel. We stopped at a light and heard some strange noises and turned off the heater so that we could hear better. There was a car in front of us and the one in front of that one hit the first car in the line in the rear. The driver got out to talk to the people in the car that hit her. They evidently cursed at her instead so she went to walk to the rear of their SUV to get their license number and they gunned it and rammed her car out into the intersection, where her empty, driverless car managed to miss two cars going through the intersection on a green light and hit a car waiting on the red. The SUV that rammed that car then drove off.
As surprised as I was by this I was just as surprised that the car in front of us just drove off as if nothing had happened. The woman was by this time a bit hysterical since her car was now in an accident and the people who caused it had driven off. We asked if we could help and offered to call 911. Before we could even complete the call the police arrived. We confirmed that she'd been rammed from behind and pushed through the intersection by a car that then drove off. She had only 3 numbers of the plate. Unfortunately, there was nothing else we could do.
I'm still appalled that anyone would do such a thing. Even more appalled, in a way, at the people who just drove off without even a thought to what had happened. The car in front of us who drove off would have had a clear view of the offending cars license plate and could have offered real police assistance. Whatever happened to good citizenship?
Anyway, finally back to the hotel. We checked on a few items to make sure everything was going smoothly and checked with the ConChair to make sure help wasn't needed. Then we attended the 1984 party. We had a great time talking to a number of people gathering suggestions for Capclave 2010 and catching up with people we hadn't seen since the last Capclave.
I'm sure by now you've noticed what's missing in this Capclave report — panel overviews. Right. This year, I'm Vice Chair which means I get to help where needed by the Chair and jump in when necessary if the Chair is busy elsewhere among other things. So, if today is just a taste of what tomorrow will be like — actually coverage of panels and talks may be a bit thin. Maybe what I'll really be reporting on this year is the behind the scenes running of a convention.
Anyway, it's nearly 2 AM and I need to be up and ready to work the WSFA Press table tomorrow at 10 AM. So, I'm signing off for now.
I spent a good chunk of my time today working with a WordPress Plugin to try to get a map of all the restaurants in the vicinity of the Capclave convention hotel.
After hours of work, Hyperion and I managed to get the maps to show. The problem is that it was one map per restaurant. Not good… back to the drawing board. Searching …searching….searching…reading….searching…. you get the idea.
Anyway finally found another plugin that looks like it will easily do multiple items on one map but I'd have to enter all the data again and it has to already be geocoded when it's entered because it doesn't do it automatically like the first one did — which is why it was the first one I tried.
Okay, more fiddling and it looks like we can export the database to a file and then import to the new one once we know what it required and in what order — then I'm back in business.
The frustrating part is I have to enter the rest of the restaurant data into the program we're not going to use to get the geocode for the one we are going to use. That's another two pages single spaced of restaurants (names, addresses, telephone, number, types of cuisine, average cost of a meal).
I know I'm complaining but really this hasn't been a wasted day. I've learned a lot about geo codes, maps, mapping plugins, and a couple of programming tips. I'm also thinking it's about time I learned a bit more so I could actually change a program that ALMOST does what I want to doing EXACTLY what I want. (Yeah, I'll add that to my TODO list somewhere around item 4,789,968,365. That's it … I just have to live forever if I'm even going to make a dent in this list.)
Meanwhile, if any reader has tackled trying to do a map of multiple items to display on a WordPress page using your own list of places–especially with a roll-over that will list the restaurant when you are over the little marker — let me know what you used.
Hyperion and I only have like a couple of days to get this up and running on the website. Time is getting short and suggestions are welcome — though that doesn't necessarily mean I'll do more than listen and bang my head on the keyboard for a while for not thinking of whatever myself.
Tags: Capclave, Computers, mapping, Programming, WSFA