Browsing the Fiber category...
Tudor Roses by Alice Starmore.  ISBN: 978-1606600474.  Hardcover. Calla Editions; Revised Expanded edition (November 8, 2013).
There are a couple of things that I can tell you right off. First, this edition has no sweaters for men. So the Henry VII and Henry VIII sweaters are missing. Second several of the women's sweaters have been revised. There's also a couple of new sweaters for women in the Tudor line.
[Reviewing Note: I own the original Tudor Roses, 1998 edition, and will try to give my impressions as to the changes as I go through this new edition. Note that I'm reviewing a digital advanced reader copy so while I have photos and text information, I can't comment on instructions as this copy not formatted for reading the knitting instructions and all the charts are missing and formatting was problematical.
4/28/17 Update: I bought a copy of the newly revised hardcover edition of Tudor Roses because I feel in love with a couple of the new sweaters, now seeing others in these new richer saturated colors — well I found myself willing to buy this copy.]
Below is a photo of what I mean by richer colors. The photo from the new book is on the left and the old book on the right. Photo were snapshots with my phone's camera with flash.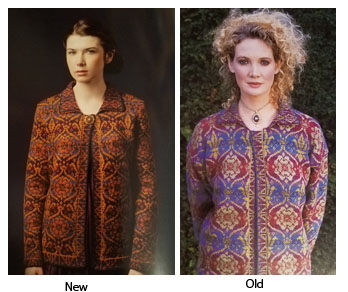 A major difference is the sweater photos in the 1998 version were mostly taken outdoors in natural settings. This new edition is more controlled with studio photographs (several of each knitted item) against a black backgrounds. This makes for more uniformity in displaying the knitted items and keeps the focus on the pattern, style, and colors.
All of the women's sweaters from the 1998 version are in this version though the color choices have changed for many of the sweaters. There are also several new sweaters each named for a woman important to the Tudor line: Elizabeth Woodville, Margaret Beaufort, Lady Mary, and Mary, Queen of Scots. Though some of the sweaters for the women have changed as the sweater on the cover of the new edition is Jane Seymour's and in the 1998 edition her sweater was a pullover.
Here's a partial list of the differences between the 1998 version and this edition:
Elizabeth of York's sweater has also changed to be more of a bolero or vest instead of the original longer length though the stitch pattern is basically the same.
Margaret Tudor's sweater is shown in a cream and the sleeve pattern has been changed while the body is the same.
Anne Bodeyn's sweater has changed to a stunning fitted jacket that draws the eye with a contrasting thin stripe detail.
Katherine Howard's sweater is the same but the color is now dark blue with a liter blue for the diagonal stripes giving it a bit more drama.
Each section starts with a short letter from the point of view of the woman featured, giving a flavor of who she was and how she viewed her place in the world. I found these short notes to be touching and to bring this woman to life as a person not just a historical figure. Reading these notes made it easier to see how the sweater fit with their personality and position which added an extra layer of enjoyment to the book.
I'd suggest going to the Amazon website and take advantage of the Look Inside feature to determine if you wish to purchase this book. It is a beautiful edition with just enough changes to make it worth purchasing even if you do own the 1998 copy. However, others may have a different view of buying a new edition of an already owned pattern book. Check it out and decide for yourself.

Knit Your Socks on Straight: A New and Inventive Technique with Just Two Needles by Alice Curtis, Storey Publishing, LLC (June 5, 2013). ISBN: 978-1612120089, Spiral Bound, 144 pages. List Price: $16.95 (Amazon: $11.32 / Kindle: $9.99)
In the past, I've knitted a couple of different patterns for two-needle socks. Each one was different and rather plain-vanilla in appearance. There was variation in the type of yarn used (mult-colored or one-color) or using more than one yarn color for strips. Each had a seam that varied from under the foot and up the back or on top of the foot. Mostly, I knit my socks using five needles, but I've often thought that those knitters who prefer to use two straights should also have a chance to knit beautiful socks and now they can with Alice Curtis' book.
Alice Curtis in Knit Your Socks on Straight gives knitter who are uncomfortable with knitting on circulars or multiple needles a chance to make socks. There are plain socks to get a feel for the pattern basics. Then there are some familiar lace patterns, cabled socks, and even a pattern for a pair of argyle socks. There's also socks for babies, men, and women. There's enough variation to keep a knitter happy and once familiar with the basics of her pattern a chance to strike out on your own.
The book has a nice section on basic sock how-to instructions. This section explains the way the patterns are set up and the importance of measurement and gauge and how to get both of these. It's clearly written with diagrams and directions that are simple enough for beginners and set out logically enough so experience knitters can find the bit they need without wading thorough lots of material they already know.
Caution: Each pattern, because of the seam, has right foot and a left foot instructions. This makes sense because the seam is hidden within the pattern of the sock to reduce it's appearance — it blends in. It is also critical to slip the first stitch so that you can seam the sock more easily. (There are instructions.).
My disclaimer is that I haven't yet made any of the patterns in the book thought there are a couple that I've added to my to do list. I did read through nearly all of the pattern instructions and they seemed well written and clear — but, then most knitters realize that what seems clear and concise on the first read may seem a bit muddy when the stitches are on the needles and you forgot to mark you place in the pattern.
I'll also note that there are instructions for socks with several different yarn weights.
All in all, if you don't like circulars or working with multiple needles and have been wanting to knit socks, this is your chance.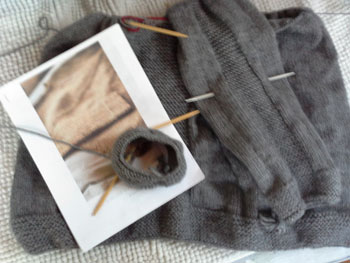 For a while, I was knitting a row or two of a sock and then putting it aside. Lots of starts and very few finished — well none of them finished actually — got the finishing of about 12 socks on my ToDo list now and trying not to get overwhelmed by the length of that list .
Then I got in the mood last year and did a seat-of-the-pants sort of proof of concept sweater just to wear around the house. Paul — who hates sweaters by the way — put it on one cold morning and loved it. Seems he really hates sweaters that are tight in the neck. He wore it to work and around the house and actually had it on 4-5 days a week. It was hard to get it back to wash. The problem was it wasn't even a really good sweater — just navy blue left over yarn knit top down with no pattern and not really following the rules for increases and the sleeves were short.
So, I decided to make him a nice sweater. He picked out some really nice grey yarn (Red Heart's Grey Heather). By nice I mean it will go into the washer and dryer and be tough since I'm expecting it to be worn as much as the navy blue one from last year.
Got the yarn home and tried to find the Cobblestone Sweater pattern by Jared Flood. I'd made this sweater a couple of years ago for my son. Couldn't find the pattern which was in a past issue of Interweave Knits but couldn't find the magazine. So, went to Flood's website and bought a copy, downloaded the pattern, and started knitting.
In a week, I'd knit the entire lower body and then needed to start the sleeves. Several month's later I was still on the first sleeve with 6 more pattern repeats to get to the part where you join for the top of the sweater. So, I started knitting when I watched streaming video of class lectures, news shows, etc. and finished the first sleeve in 1 1/2 weeks. I took this picture of the body, pattern, and sleeves two days ago — sorry for the blurriness. The second sleeve is now just 11 patter repeats from being done. Once this sleeve is finished I expect to be able to zoom through the top and finish it. I'll report next week on how far I get from this point.
I should also note that I've made a change from the pattern. I continued a strip of garter stitch up the outside of the sleeves (10 stitches wide).
Next Thursday, I'll post another photo of the Cobblestone Sweater status. It feels good to be back into knitting again.
I really don't know what's got into me lately. It seems like I'm just dragging through the days in a fog. I'm sleeping a lot but never feel rested. I'd have thought by this time now that my Capclave was over, I'd begin feeling rested and revving up on all the things I had to put on hold for the past couple of months. Guess it will take a bit longer.
Meanwhile, I spent nearly a week entering all the books that came in between two days before Capclave and when we got back from World Fantasy in Columbus, Ohio. We had a great time at WFC. It's fast becoming one of my favorite conventions along with Readercon, Balticon, and our local convention, Capclave. I also enjoy Worldcon but haven't been able to go recently since they've been out of the country (USA) this past year. Other conventions, as much as I've enjoyed them, are just a bit difficult to get to because of the economy and my husband's lack of vacation/sick time (he's a contractor and gets set back to 0 when the contract changes companies — sigh).
I've been trying to catch up on some knitting. During the foggy brain days of gearing up for Capclave, I stuck to my plain vanilla sock knitting and got 1 and 1/2 socks done. Less brain fog and I'd have expected to finish 3 pair in that time. I've finally got the first sock of the first package for the sock club I joined at the beginning of the year. It's been sitting on the tray near my chair since then because — well, I sort of think I want to make the other pattern instead. I feel really bad about that because I ended up unraveling this sock at least 4-5 times trying to get myself to not over-think the pattern or go off without reading the pattern. I guess I picked this one because it seemed more challenging and it was. But, now that I look at the finished one — it's not really the type of sock I'd wear and the other pattern is. So, as soon as I get my courage up, it's the frog pond for this sock and starting the other pattern. I'll take a photo before I pull it apart and try to post that soon (check back).
Meanwhile, just watched the second season of Fringe. There's a lot to be said for watching an entire season over a week. The long term story arcs really jump out at you when doing that. I'll post a review to SFRevu soon and let you know where to find it when I get it up. I'd like to hear what you thought of it also. Feel free to post comments.
Time to take a break and go read for a while. Have a good evening.
The mystery genre has whole series of   books that have a knitting, crocheting, spinning, weaving, and other fiber arts mentioned in them.  In many, the amateur  detective/sleuth owns a yarn store or art gallery and so the characters use these skills — either to help them solve the crime or in the background as the story unfolds.   An example would be Miss Marple calmly knitting as she observes the people around her and listens to what's going on and then puts it all together to solve the crime.
In talking with friends, I couldn't really come up with anything  similar in SF/fantasy/horror (and all subgenres).
The closes I could come to that off the top of my head is the Pern series by McCaffrey where many characters weave, knit, or whatever as part of their household duties.  In the Harry Potter series, Mrs. Weasley knits the family and Harry sweaters and other item, Dobby knits socks,  Hermione  knits hats,  and Hagrid knits various items throughout the books.
I read another book YA retelling of Rumplestiltskin, Spinners  by Donna Jo Napoli and Richard Tchen where  they not only mention the spinning into gold but throughout go through the process of spinning wool (cleaning, carding, spinning, and plying).
I'm looking for the titles and authors of other books for children, YA, and adults that have  the fiber arts (spinning, weaving, knitting, crocheting, and other crafts)  as an integral part of the story line.
Are there others in the science fiction or fantasy category?  Comment with the author, title and how the craft is used…I'm really interested.
We woke up to a thin blanket of snow covering everything.  Yesterday the ground was bare of snow — today a couple of inches so far.  It's also cold.  Bone chilling cold.  I've stayed in all day.  But one thing snow means is that all the little birds in the area flock to your deck to peck at the window to let us know it's time to fill the feeder.  I didn't know birds were so clever.
Yesterday we had an incident with the kerosene heater.  It smoked.  Turned out you need to occasionally jiggle it to make the chimney seat right.  Who knew?  We'd had the same model for years and never jiggled it.  We'd used this heater for the last three months and never jiggled it until yesterday.  When it smoked I turned the heat back and it stopped and thought that was it.  Then I checked on it a few minutes later and it was smoking a bit.  I shut it off.  Then I spent the rest of the day rewashing the clothes that were in the basket waiting to go upstairs as they were covered with soot.  And washing off just about every surface in the living room where the heater is.  When Hyperion got home and got down to check it out (I've got arthritis in my knees so I don't get down that low unless I absolutely positively have to), he found that it had a label with tiny print that said to open the tiny door and jiggle the thingy if it smoked.  He did and its been working since.
Today we cleaned the living room floor and most of the flat surfaces.  I've still got to wash windows, walls, floor, and dust all the books and things throughout the upstairs and the level with the heater.  This is due to the fact that we occasionally touch things and find our fingers sooty.  Less this evening than this morning since we've been picking at this problem all day.
I really don't need these types of crises at the end of the month since we're working on getting the zines up and live on February 1st.  So, far I'm semi-keeping up.   All I've got left to do right now is finish and polish my own reviews and do my editorial overviews of the issues. I can see the home stretch just down that long, long, tunnel — the one with the light at the end.  At least I think it's a light, but it could be a train.  Is that a whistle I hear?…
The good news of today is that my first package for the Rockin' Sock Club came from Blue Moon Fibers.  I'd looked at the blog and on the Ravelry forum and so many people were reporting that they'd received their yarn and patterns.  But, when I picked up the mail — nothing, nada, zip, zero — no fibery goodness at all.
Today, it was delivered.  So, it's sitting out so I can admire the yarn.  It comes with two patterns and I'm going to dither for a while on which one to make because they're both so wonderful looking.  Hyperion says that if necessary we can buy a second skein so I can make them both — Isn't he the best?  Yeah, of course he is.
Anyway, now I have something to look forward to putting on the needles.  Each year I've read about the Rockin' Sock Club and wanted to join but just didn't seem to get my act together enough to make the sign-up period willing to spend the money.  Yeah, the world's going to crap in the economy/financial area but the past year has been very stressful for me with my health and there's some very inescapable commitments coming up that are inherently stress squared.  So, after talking with Hyperion and going over the budget we decided that I could join this year. [Hyperion here:  There's money and then there's life, and I know which is more important.  Gayle really loves knitting and fiber.  So if the Rockin' Sock Club can bring her some much needed joy, I say it's worth it at twice the price … or an extra skein of yarn so she can make the second pattern.]
Knitting after all, as every knitter knows, is way cheaper than paying a psychologist by the hour to listen to a litany of stressors that can't be fixed and can't be changed because they're a part of your life that is going to be there until…well, forever.  It's nice that some people can change their lives, but when a good part of the stress is pain because you have a body that doesn't function like it should — well, knitting is a way of keeping yourself centered so you can just keep on keeping on.
Once club members are allowed to post photos of their socks publicly, I'll be sure to post the one I chose to do so you can be as excited as I am about it.  Meanwhile, I'll touch the fiber and dream of really nice socks until finish this month's commitments and can cast on.
It's still cold.  It's still snowy out there.  But I'm smiling.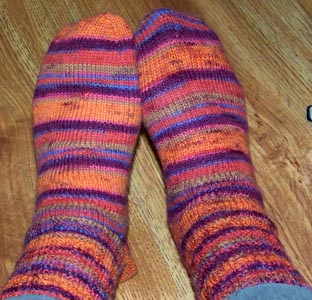 I don't get to knit much except during those times when there's not much else to do that requires my hands — so I knit when the PC locks up (which lately is a lot and knitting keeps me from trying to get it to work by pressing keys, thus making it worse) or when watching TV or DVDs, when we have company and just sitting and talking.  But somehow, to my surprise I managed to finish a few things that have been hanging around.  You know how it is — a bedroom project, a living room project, an office project, and one that fits in the purse for travel.
First, I finally finished these socks made with Red Heart's Heart & Sole with Aloe yarn. As usual with self-stripping yarn they're fraternal socks. The colors aren't quite right but they're a beautiful orange, burnt red, purple, brown, yellowish that reminds me of desert sunsets. They're just my basic sock pattern only with a broken rib pattern on the leg section. Only since I really don't like doing purl, the purl band only shows on the inside and the outside has some interesting bumps and texture that I really liked.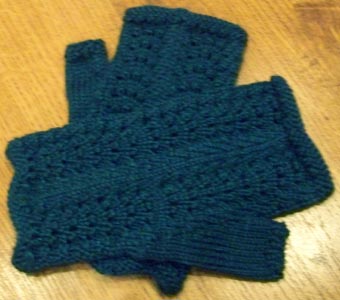 Next, I blogged about knitting the Baby Fan Mitts of a Paton's Silk Bamboo yarn in a previous post. The pattern is a free Ravelry download designed by Morgan Wolf that you can find here. The pattern is very clear and the mitts are beautiful and dressy without being too fussy.
I had plenty of the yarn left over so I decided to make a matching cowl to go with the mitts. I used a pattern from one of Barbara Walkers' books and started knitting. It took a few tries to get what I wanted but here it is drying. (Don't let the color fool you — this is the same yarn as the Baby Fan Mitts and in the same color — for some reason I just couldn't get the same color in the pictures. Actual color is a very pretty blue-teal — closer to the mitts photo than the cowl one.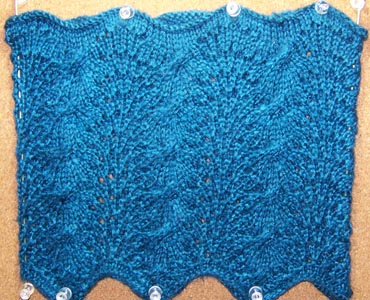 I think it came out pretty good and I'm pleased with it. I'll try to get a picture with me wearing it at some point. I've been thinking of writing the pattern up and posting it but don't know if there would be much interest. Would there? Should I?
But because now I didn't have anything but sweaters on the needles, I needed to start another pair of socks. These are a beautiful green/gold/red/yellowy tweed using Paton's Kroy Socks yarn.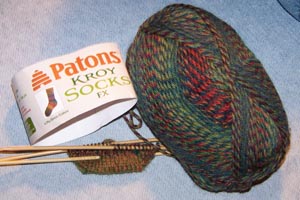 I haven't yet decided what to do with them. So, I'm making a plain foot and will do something with the leg portion when I get there. I'm debating making these as a Christmas gift for someone so I'll have to see how the foot looks before deciding how to do the leg. Right now I'm thinking a plain 2×2 knit purl ribbing or some other simple ribbing pattern.
I'm rather pleased with myself at doing so much over the past two months. But then the fibro has been pretty bad and knitting is something I can do even if I can't really think straight as long as it's just plain knit and socks are mostly that. Luckily when you've been knitting for years even using double pointed needles to do socks is second nature.
I signed up for the Rockin' Sock Club by Blue Moon Fibers this year. It's something I've always wanted to do and I finally managed to hit the enrollment period with the money to do it (just got paid for a freelance gig). I'm really looking forward to getting the first shipment of yarn and patterns. If I can keep up with the socks from the club I should manage to keep my feet warm next winter and hopefully a couple of the pattern will make great gifts for those who keep asking me for socks for those family members who keep hinting for socks.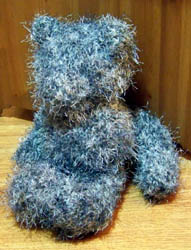 Bear Update:
When last we left the little bear in a previous post, it was rather scary looking. Parts scattered all over the place. I'd managed to make a back, front, two arms, and two legs. However, I couldn't find my buttons for joints or my needle. So, things got put away.
Finally, I managed to dig out the buttons and find a workable needle. I needed buttons big enough that a child can't swallow them even though the buttons that make up the joints are inside the bear and a child can't get to them without a severe desire to dismember said bear — shivery scary thought. The intended bear recipient is rapidly growing since she was born in Feb and I'm totally behind.
What's needed now is the face– eyes, nose, mouth. Those are embroidered on so there are no pieces for a child to pull off and choke on. I just need some time — a good movie should do it. As soon as I find the thick velvety cord I use for this. It's in the house somewhere.
Baby Fan Mitts: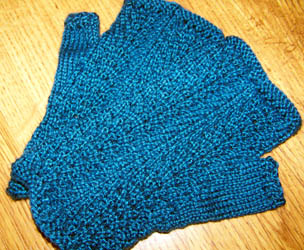 I'd seen Patons Silk Bamboo yarn at A.C. Moore and fell in love with the sapphire color. It felt so soft and silky but I couldn't think of any reason to get it — I just didn't have a project in mind or planned.
Then as these things tend to happen, I was reading the Rainey Sisters blog and saw the Baby Fan Mitts. Perfect. One skein of the yarn would make the mitts (which is true if you don't waste any in a long tail when you cast on the stitches. Of course by the time I picked up the yarn, I couldn't remember how much I needed so I got four skeins.
The mitts came out beautifully and fit and feel great. Much closer fit making them a bit dressier than some others I have. But as I was making them for me and after making two cowls for the moms for Christmas. I got to thinking that a nice matching cowl would then make a nice dressy set. So, out came all the stitch dictionaries and I found a cable-fan that I thought would look like a close match but would also be warm and pretty. Here's the bit I've got done after a bit of experimenting and changing the pattern a bit.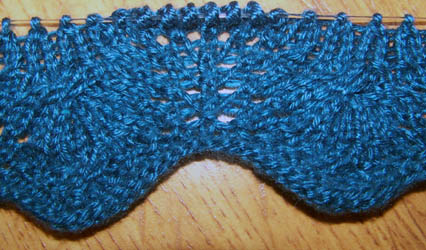 I think it's going to come out just like I want. I made it a bit loose so that if I decide it will work I can make it longer to pull up over my head to cover my ears if it's really, really cold (like it has been the last week or so).
Anyway, tomorrow is major last minute house cleaning. Pick my son up at the airport. Buy the Turkey and catch up on his life. Just what he wants: the mother interrogation. Naw, we'll all have fun. We're planning to go see the new Sherlock Holmes film. I may or may not be able to post for a while. So, everyone have a great holiday if I don't get a post or two in.
Tags: Bear, Knitting Design