Browsing the Guest Blog category...
Marsha Altman was gracious enough to make A Curious Statistical Anomaly a stop on her Blog Tour and talk about her newest book, The Plight of the Darcy Brothers. We'll be giving away 1 set of Marsha's two books: The Darcy's and the Bingleys and The Plight of the Darcy Brothers (must have a mailing address in the US or Canada). I will pick a random person who as posted a comment on this blog post as the winner. Winner will be chosen on August 19th.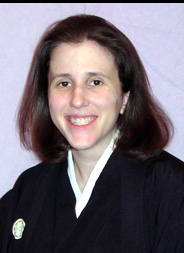 I'm the author of The Plight of the Darcy Brothers, a sequel to The Darcys and the Bingleys, which is a sequel to Pride and Prejudice. And it is a series; book 3 (Mr. Darcy's Great Escape) is due out in Feb 2010. Gayle asked me to talk about the problems of remaining true to the original characters once I'm beyond the scope of the original Austen book, and in book 2, about four years have passed since the wedding, other people are married too, and there are kids. I would say I'm pretty past the scope.
The real answer, as I see it, is that there is no way to remain true to the original characters because there is no one set of "original characters." Every person who reads Pride and Prejudice comes away with a different impression of how the characters acted and how they would like them to act in a sequel. I have my own interpretation; at times it's wild and at times it's pretty straightforward. As an author, my job is to make it presentable, so even if the reader doesn't agree with it, the reader is at least willing to accept it.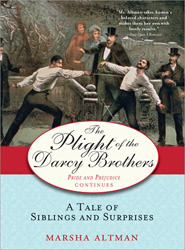 A prime example is the first book, which got a lot of criticism for having Darcy be a lush and therefore the butt of several jokes while in college. I didn't think making Darcy a lush was at all negative to his character. You work up a tolerance for alcohol by drinking a lot, and Regency gentlemen drank more than a lot. The idea that Darcy has a lower tolerance means that he is very conservative in his alcohol consumption, perhaps fearing that a slovenly image would harm his family name (which is so clearly important to him in Austen's work), and as a result he doesn't have much of a tolerance compared to his peers, so when he does drink, he gets very drunk quickly. Since Darcy lives on his high horse, his college friends (and Wickham, of course) take any advantage they can get to knock him off it. In other words, he's so virtuous that people enjoy seeing him knocked down a peg, albeit in a friendly way. I felt it was an amusing way to soften Darcy, but some readers didn't agree, as Darcy is not supposed to be ridiculous. I can see their point, but it's the story I wanted to write, so I wrote it.
Much less controversial methods of maintaining a tone involve simply expanding a character, keeping the old ideas in place but implying there are other facets of a character's personality we haven't seen before. Bingley is still overly sweet and has bad handwriting, and knows his judgment when it comes to assessing relationships can be flawed, something he learned in Pride and Prejudice, which is why he went to Darcy for help vetting Caroline Bingley's suitor in my first book. On the other hand I felt no need to make him a complete idiot. His father was massively successful in trade, so Bingley is good with numbers and languages. He's not experienced running an estate but he's a fast learner. Caroline and Louisa show the same qualities; Caroline's knowledge of Italian was what put her so constantly in Dr. Maddox's presence that she married him. In Pride and Prejudice, Caroline Bingley was a snob, obsessed with fashion, stature, and putting other people down. Adding intelligence doesn't contradict that. Even after she marries someone arguably below her station (though he was born well above her station), she maintains a certain edge absent in Jane and even Elizabeth. The important thing is that it isn't directed at her husband and doesn't bother him, and being married and settled predictably makes her a bit softer, as most of her cattiness in Austen's work was due to trying to woo Darcy and shun Elizabeth, something she no longer has to do.
I'm supposed to end these guest blog posts with a question to start a discussion pertaining to my novel, but as this is the last stop on my blog tour, so I'll ask this instead: Chicken or fish?
About the Author
Marsha Altman is a historian specializing in Rabbinic literature in late antiquity, and an author. She is also an expert on Jane Austen sequels, having read nearly every single one that's been written, whether published or unpublished. She has worked in the publishing industry with a literary agency and is writing a series continuing the story of the Darcys and the Bingleys. She lives in New York.
Tags: Elizabeth Bennet, Jane Austen, literature, Marsha Altman, Mr. Darcy, Pride and Prejudice
Trackback
• Posted in Guest Blog