Browsing the Holidays category...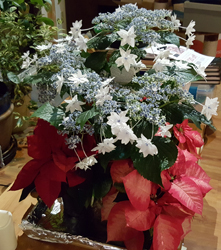 I love Christmas. It's the best time of the year as far as I'm concerned. No matter what is going on in my life, Christmas always energizes me and makes me feel alive. I fall in love with my world and the people in it again. That spirit keeps me going for the next 12 months until it is renewed the following year.
At least, that's how it used to be. This year, well I'm just not feeling it. I'm watching my collection of Christmas movies and for a while I feel the start of that uplifting spirit and then I read the news — or go out shopping. That's when the spirit just sort of drains away.
It's little things. The cashiers at the stores smile but it doesn't reach their eyes. They don't look at you. I'm obviously female but I'm usually called 'Sir' — really. It you can't be bothered to look at your customer perhaps you can come up with phrases that don't rely on gender identification.
It's being cut off in traffic, for a parking space, having doors let go when you're just a few inches shy of being able to take over. I always make a habit of holding a door for the person behind me or open it for the person in front if they are having problems. It's just manners. What's happened to us?
People just seem so angry all the time now. I understand the feeling; I really do. It's hard when you listen to the talk of hate and bigotry being spewed on the airwaves lately. But really. All humans share this world and we really should strive to make it a better world. We can't do much but we can take the time to hold an elevator for someone coming toward it when we're right there by the button. To open a door for someone — male or female. To smile and wish someone a good day.
Life is a series of moments and if each of us will make the effort to smile and do a bit of kindness every day, to think of the things we're thankful for each night before falling asleep, maybe you'll help someone else have a good thing happen to them they didn't expect. They'll pass on that good feeling and maybe inspire someone else.
Small acts of kindness can build until maybe, just maybe, the Grinch-y feeling will go away for more of us.
Now, I wish each of you a good day, and restful evening, and an even more joyous tomorrow.
Yesterday, we finally decided to do something to decorate for Christmas. The Shooting Star Hydrangea surrounded by Poinsettias has brightened up my living room. Now maybe I can begin to get in the Christmas spirit — I think I'll put another movie in the player and believe that everyone is looking to make the world a better and kinder place for humans of all shapes, sizes, and colors.
Tags: Christmas
Maybe it's all the rain or the high 50's temps but I'm finding it difficult to get in the spirit of Christmas. Of course, putting in some longer hours working (husband) and trying to breathe (me) hasn't made it any easier. No tree this year and just one of my Santa models and some Christmas cards around the door and a holly ball is the limit of my decorations this year.
Anyway, we got the gifts mailed to our mothers and our son. But the holiday spirit just seems to come and go — usually dashed by reading the news. So tonight I thought I'd check and see if there were any specially interesting synchronized Christmas lights this year. Well, I found this video where an entire neighborhood was lit up and synchronized to the same music. This takes dedication and planning and programming.
While searching for these lights, I noticed that Google had a special logo tonight (Dec 23rd) that plays a holiday song when you click on each of the lights. Give it a try.
Maybe you're in the spirit of the holidays but if not maybe the video and the Google logo will help you get in the spirit.
Tags: Christmas
Today it rained all day. The cat won't come into the house. We got M-not when someone dropped him off at the road this past March during the snow storm. He's been an outdoor cat since. He's a bit skittish. But with the cold — down into the low 30s and high 20s, we're considering let him into the house. We bought a litter box and set it up near the door in the basement. But he won't come into the house. He did step in and when Paul shut the door he nearly brained himself running full tilt at the door. We, of course, opened it immediately and let him out. We've been offering to let him in ever since. Today he came in for almost two minutes with the door open but he won't come in more than a foot and when Paul shut the door he cried piteously so we opened it, and out he went to sit by his outdoor house under the covering we put up so he has some outdoor space that's protected.
Life is still pretty hectic, but today we watched Christmas movies. So far, the George C. Scott version of A Christmas Carol followed by the Muppet Christmas Carol. I love them both, especially the Muppet Christmas Carol — love the music. Thought everyone might enjoy this song:
It's all about love, family, friendship, and caring for each other. Enjoy the time you have and live life fully with joy.
What's your favorite Christmas movie? Why? I've got about 12 favorites now, and many others I've seen that just seem to be more about greed and avarice than the true Christmas Spirit.
People who know me know that Christmas is my favorite time of the year. Not for gifts (we don't really do them in our family — just to our mothers and my son). I love the season because people, in general, just seem to be making an extra effort to be pleasant and friendly.
A friend sent me this link to a flash mob event in a food court. Since it is the season. Enjoy.
I remember singing this in high school when I was in chorus. At the time I was a soprano … can't believe I used to be able to hit those high notes. Still love the song though.
I found this quote on reference desk:
"But this Veterans Day, I believe we should do more than sing the praises of the bravery and patriotism that our veterans have embodied in the past. We should take this opportunity to re-evaluate how we are treating our veterans in the present. " – Nick Lampson
It got me to thinking how much we ask of our people in uniform and how little they get in return. Years ago, when I was in college, veterans got practically all of their expenses covered as they worked on their degree — the only requirement was that they attend their classes and get the grades to continue. Now full veterans benefits barely cover anything leaving much of the cost of a college education to be covered by other means.
Even the veterans medical benefits are not as inclusive as they once were. My uncle had quite a bit of difficulty getting coverage for his cancer and related treatments before he died. The Veterans Administration was very helpful in helping navigate the twisted ways of the paperwork to patch together some help for his medical care.
We ask these men and women to step forward and possibly give their lives for us — the ultimate sacrifice that they may be required to give. Yet, consistently our Congress has been reducing the benefits that these people can expect from "a thankful government and people". I know our candidates talk a good game, but talk is cheap — it's actual actions that speak to the real priorities.
So, today and throughout the year, remember our veterans and those serving in our undeclared wars — honor them by bringing them home. Their lives shouldn't be put on the line for less than the safety of the nation — not the safety and convenience of the corporations that sponsor Congress.
NOTE: These are my personal opinions and as such are valid for me. Your own mileage may vary.
Tags: Veterans' Day

Today is Valentine's Day and I suspect that many people will be sending cards or ecards to their special someone. Most will have X's on them to represent kisses. I found this bit of an article on Valentine's Day at How Stuff Works interesting:
How about the "X" sign representing a kiss? This tradition started with the Medieval practice of allowing those who could not write to sign documents with an "X". This was done before witnesses, and the signer placed a kiss upon the "X" to show sincerity. This is how the kiss came to be synonymous with the letter "X", and how the "X" came to be commonly used at the end of letters as kiss symbols.
Whether you deliver your Valentine his or her kiss as an X or in person, I hope everyone enjoys the day with someone special — family, lover, special friend, children, grandparents — whoever gives your heart joy.
Hyperion and I will spend the day together — just enjoying each other's company. We've been married 20+ years and we still love to just spend time together. That is a gift I treasure.

It's difficult to put into words just what one person can truly mean to another, and have it make any sense to a third person. When I say that Gayle completes me, I'm not insinuating that I couldn't live without her, or any such silly sap as that. Obviously I managed to live for a couple of decades without her before she came into my life. But rather, I mean that being with her magnifies the joy life provides. Her strength gives me the courage and determination to do things that I simply wouldn't have tried without her. Ten years ago we took a trip to Australia and toured half the country. Would I have bothered to do that alone? No, I'd have saved the money. But with her, it was one of the most memorable experiences of my life. Would I have the job I have today without her? No, because I knew I was completely unqualified for it, and never would have applied without her encouragement.
So, to Gayle, who brings richness and belief in the impossible to my life … happy V-Day!
"You are my sun, my moon, my star-lit sky. Without you, I dwell in darkness." And it will never go away.
Woke up to find the house surrounded in fog.  At first I didn't notice because the rain was pattering on the sky light and it was rather dark.  Once I got up and looked out there was fog, the thin grey blanket type over, around, and cloaking everything.  It made for the kind of grey, lazy day where you just spend your time catching up on all the little chores you've been meaning to do.
Picked up the kitchen and cleaned the counters and stove top.  Then started on the big job.  Taking down the Christmas tree.  Wish we could leave it alone since my back has been quirky for days now.  But, it's not the decorating statement I want to make.  The hold up was having to replace the ornament boxes which we've had for years and were more tape than box now.  So, lots of shopping and checking in stores as we did errands over the last couple of weeks and found a couple of reasonable substitutes.  It seems that ornament boxes have become tiny little things that won't hold ornaments — go figure.  So, today we took all the ornaments off the tree and got them packed up.  We started going branch by branch to pull the branches towards the center: you know when you separate and fluff them when you put the tree up that you just have to squeeze them all down again.  Got about 1/6th of it done.   Hopefully, tomorrow we'll finish that bit of it and get the tree apart, wrapped, and stored.  Then it's clean the living room and rearrange the furniture and the plants.
Meanwhile, I'm almost done with a sock … maybe another 1/2 inch and bind off. Then start the second one.  I joined the Rocking Sock Club and I'm really looking forward to the first package.  I've never joined a sock club before but heard a lot about this one.  I  just never remembered about it during the signup period.
I've found the black yarn for the bear's face so hope to get that done tomorrow or at the very least over the next week. I've been finishing things lately and that's a good thing.  Got the cowl done.  Just need to sew in the ends and block.  Should have pictures up for that soon.
Meanwhile, I've been reading in all the in between times to get my commitments for reviews done this month.  Trying to catch up and arrange some interviews before it gets too late, too.
Gumshoe Review published it's first original short story this month.  We've already chosen the story for February.  We hope to have a new story featured each month.  This is a new venture for us and we're still working out how to streamline the system: reading the submissions, ranking them, going over our favorites, notifying the authors whether we're interested or not.  We're getting better but still need to get a system that's easy for us to deal with and make swift decisions for the sake of the authors.
Nevertheless, I still feel even though I got a lot done today that I'm still running in place rather than moving forward.
Tags: Chronic Pain, fibromyalgia, Gumshoe Review