Browsing the Knitting category...
Tudor Roses by Alice Starmore.  ISBN: 978-1606600474.  Hardcover. Calla Editions; Revised Expanded edition (November 8, 2013).
There are a couple of things that I can tell you right off. First, this edition has no sweaters for men. So the Henry VII and Henry VIII sweaters are missing. Second several of the women's sweaters have been revised. There's also a couple of new sweaters for women in the Tudor line.
[Reviewing Note: I own the original Tudor Roses, 1998 edition, and will try to give my impressions as to the changes as I go through this new edition. Note that I'm reviewing a digital advanced reader copy so while I have photos and text information, I can't comment on instructions as this copy not formatted for reading the knitting instructions and all the charts are missing and formatting was problematical.
4/28/17 Update: I bought a copy of the newly revised hardcover edition of Tudor Roses because I feel in love with a couple of the new sweaters, now seeing others in these new richer saturated colors — well I found myself willing to buy this copy.]
Below is a photo of what I mean by richer colors. The photo from the new book is on the left and the old book on the right. Photo were snapshots with my phone's camera with flash.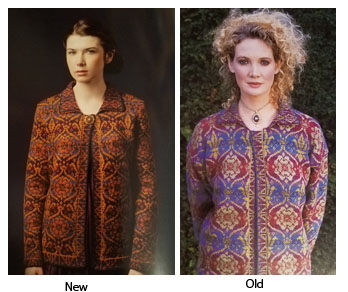 A major difference is the sweater photos in the 1998 version were mostly taken outdoors in natural settings. This new edition is more controlled with studio photographs (several of each knitted item) against a black backgrounds. This makes for more uniformity in displaying the knitted items and keeps the focus on the pattern, style, and colors.
All of the women's sweaters from the 1998 version are in this version though the color choices have changed for many of the sweaters. There are also several new sweaters each named for a woman important to the Tudor line: Elizabeth Woodville, Margaret Beaufort, Lady Mary, and Mary, Queen of Scots. Though some of the sweaters for the women have changed as the sweater on the cover of the new edition is Jane Seymour's and in the 1998 edition her sweater was a pullover.
Here's a partial list of the differences between the 1998 version and this edition:
Elizabeth of York's sweater has also changed to be more of a bolero or vest instead of the original longer length though the stitch pattern is basically the same.
Margaret Tudor's sweater is shown in a cream and the sleeve pattern has been changed while the body is the same.
Anne Bodeyn's sweater has changed to a stunning fitted jacket that draws the eye with a contrasting thin stripe detail.
Katherine Howard's sweater is the same but the color is now dark blue with a liter blue for the diagonal stripes giving it a bit more drama.
Each section starts with a short letter from the point of view of the woman featured, giving a flavor of who she was and how she viewed her place in the world. I found these short notes to be touching and to bring this woman to life as a person not just a historical figure. Reading these notes made it easier to see how the sweater fit with their personality and position which added an extra layer of enjoyment to the book.
I'd suggest going to the Amazon website and take advantage of the Look Inside feature to determine if you wish to purchase this book. It is a beautiful edition with just enough changes to make it worth purchasing even if you do own the 1998 copy. However, others may have a different view of buying a new edition of an already owned pattern book. Check it out and decide for yourself.

Handknit Holidays: Knitting Year-Round for Christmas, Hanukkah, and Winter Solstice by Melanie Falick with Betty Christiansen. Photograph by Susan Pillard. ISBN: 978-1-4532-6816-2. STC Craft | Melanie Falick Books (October 30, 2012) (Hardcover: $12.46; Kindle version: $6.99). (Review based on a digital review copy.)
As you might expect this book has a few things for just about every holiday (Christmas, Hanukkah, and Winter Solstice — missing is Kwanzaa but with an adjustment for color some items would fit for that holiday) grouped by patterns for the home, and gifts (for men, women, and children). Many lovely color combinations — some bright, some colorful neutrals, and some monotones — as well as texture (cables) and lace. There's also patterns for just about all skill levels — so no matter how long you've been knitting you are bound to find something that you can knit. The patterns also have a number of techniques that would allow a knitter to try out something new as they knit for a family member or a friend.
I counted about 50 patterns but several are variations rather than new patterns so depending on how you count you'd get different numbers. Also, there are tips and special techniques, abbreviations used in the book, sources for supplies, various holiday facts and short bits, a list of greeting for the holidays in several languages, holiday knitting strategies.
There are patterns from the following people: Susan Alain, Suzanne Atkinson, Veronik Avery, Betty Christiansen, Amanda Blair Brown, Carrie Brenner, Cynthia, Crescenzo, Sandy Cushman, Teva DUrham, Nicky Epstein, Norah Gaughan, Priscilla Gibson-Roberts, Kim Hamlin, Michelle Heyman, Penney Kolb, Faina Letoutchaia, Robin Melanson, Nancy Minsky, Annie Modesitt, Jillian Moreno, Kathy Pasusta, Leigh Rackford, Michele Rose Orne, Leslie Scanlong, Iris Schreier, Jo Sharp, Cindy Taylor, Jolene Treace, Gina Wilde, and Anne Woodbury.
I found several things I wanted to make and lots to make me take a few minutes to dream over and wonder who I could make it for because I couldn't wear or use it but it was sooooo nice. There were some interesting gift items — gift bags that could later be used as purses seemed very nice. The stocking to 'hang by the chimney with care' were lovely and would make nice heirlooms for children or grandchildren. There were even some nice shawls and sweaters that those hard to knit for teens might like and actually wear.
All in all a great book for finding holiday gift ideas. I read the digital review copy and before writing this review, I pulled down a sample copy to check to see if my problems with the uncorrected review copy were fixed in the 'for sale' electronic version. It appears that most of the problem area were corrected. I still have a bit of problem with the format going from 3/4 of a page to full page but it's not something that should take away from the great photos and the directions/patterns for the items — but if looking to get a digital copy be sure to look at the sample first.

Great Little Gifts to Knit: 30 Quick and Colorful Patterns by Jean Moss. Taunton Press (September 3, 2013). ISBN: 978-1600858475. Photographs by Burcu Avsar. Charts and Schematics by Jean Moss.
Great Little Gifts to Knit has a subtitle, 30 Quick and Colorful Patterns and the photos are enticing and beautifully done, pulling you on to see just how difficult or easy that lovely pair of mittens, hat, shawl, or sweater really is to knit. The patters are arranged in four sections: Baby, Hers, His, and Home. There's far more patterns in Hers than in any of the other sections.
There are patterns for beginner, intermediate, and advance knitters. There's a fairly comprehensive tips and techniques section and some of the patterns focus on a technique such as intarsia, shadow knitting, knitting in the round, Fair Isle, chart reading, and twisted stitches. A beginning knitter could learn a lot of new techniques/skills by simply knitting one of everything in the book.
These patterns are, in my opinion, a step up from most books of gift patterns in that there are a lot of items I'd really like to knit in this book. My bias is toward simple classic items with texture, color, or both. Though there's also a good mix of items you'd have to concentrate on such as the Fair Isle child sweater, and then ones that you could take with you and knit while listening or being sociable because it has lots of easy to remember pattern sections.
All the patterns in the books were done with Rowan yarns which are lovely, beautiful yarns that can be a bit pricey for those on a budget. Moss includes the gauge that should be achieve for a successful result. She also specifies when gauge is not important. So, don't skip knitting a gauge swatch if you chose to use a different yarn. There's also a small section in the appendix to help you choose a substitute yarn for your project. There are also a few projects that could probably be done with left-over yarn from your stash such as the bean bags.
At first I thought the major drawback was that the time frames were listed as one day, weekend, or vacation. Since we don't know the length of time in each of those units devoted to knitting it is difficult to say how long they would take. On reflection, I come to the conclusion that this lets you take as much time as you need without developing a complex about your knitting speed — or lack thereof. My problem is that I usually knit while doing something else like watching a DVD or even reading, so I'm really a slow knitter — at least I never ever get anything done within the time frame given in books.
This is definitely a book worth looking at because it just might surprise you with its variety of projects and the opportunity to try new techniques.

Knit Your Socks on Straight: A New and Inventive Technique with Just Two Needles by Alice Curtis, Storey Publishing, LLC (June 5, 2013). ISBN: 978-1612120089, Spiral Bound, 144 pages. List Price: $16.95 (Amazon: $11.32 / Kindle: $9.99)
In the past, I've knitted a couple of different patterns for two-needle socks. Each one was different and rather plain-vanilla in appearance. There was variation in the type of yarn used (mult-colored or one-color) or using more than one yarn color for strips. Each had a seam that varied from under the foot and up the back or on top of the foot. Mostly, I knit my socks using five needles, but I've often thought that those knitters who prefer to use two straights should also have a chance to knit beautiful socks and now they can with Alice Curtis' book.
Alice Curtis in Knit Your Socks on Straight gives knitter who are uncomfortable with knitting on circulars or multiple needles a chance to make socks. There are plain socks to get a feel for the pattern basics. Then there are some familiar lace patterns, cabled socks, and even a pattern for a pair of argyle socks. There's also socks for babies, men, and women. There's enough variation to keep a knitter happy and once familiar with the basics of her pattern a chance to strike out on your own.
The book has a nice section on basic sock how-to instructions. This section explains the way the patterns are set up and the importance of measurement and gauge and how to get both of these. It's clearly written with diagrams and directions that are simple enough for beginners and set out logically enough so experience knitters can find the bit they need without wading thorough lots of material they already know.
Caution: Each pattern, because of the seam, has right foot and a left foot instructions. This makes sense because the seam is hidden within the pattern of the sock to reduce it's appearance — it blends in. It is also critical to slip the first stitch so that you can seam the sock more easily. (There are instructions.).
My disclaimer is that I haven't yet made any of the patterns in the book thought there are a couple that I've added to my to do list. I did read through nearly all of the pattern instructions and they seemed well written and clear — but, then most knitters realize that what seems clear and concise on the first read may seem a bit muddy when the stitches are on the needles and you forgot to mark you place in the pattern.
I'll also note that there are instructions for socks with several different yarn weights.
All in all, if you don't like circulars or working with multiple needles and have been wanting to knit socks, this is your chance.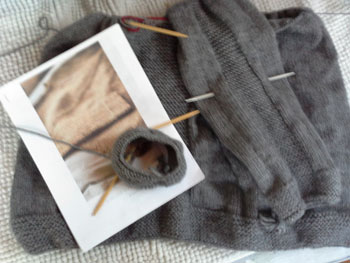 For a while, I was knitting a row or two of a sock and then putting it aside. Lots of starts and very few finished — well none of them finished actually — got the finishing of about 12 socks on my ToDo list now and trying not to get overwhelmed by the length of that list .
Then I got in the mood last year and did a seat-of-the-pants sort of proof of concept sweater just to wear around the house. Paul — who hates sweaters by the way — put it on one cold morning and loved it. Seems he really hates sweaters that are tight in the neck. He wore it to work and around the house and actually had it on 4-5 days a week. It was hard to get it back to wash. The problem was it wasn't even a really good sweater — just navy blue left over yarn knit top down with no pattern and not really following the rules for increases and the sleeves were short.
So, I decided to make him a nice sweater. He picked out some really nice grey yarn (Red Heart's Grey Heather). By nice I mean it will go into the washer and dryer and be tough since I'm expecting it to be worn as much as the navy blue one from last year.
Got the yarn home and tried to find the Cobblestone Sweater pattern by Jared Flood. I'd made this sweater a couple of years ago for my son. Couldn't find the pattern which was in a past issue of Interweave Knits but couldn't find the magazine. So, went to Flood's website and bought a copy, downloaded the pattern, and started knitting.
In a week, I'd knit the entire lower body and then needed to start the sleeves. Several month's later I was still on the first sleeve with 6 more pattern repeats to get to the part where you join for the top of the sweater. So, I started knitting when I watched streaming video of class lectures, news shows, etc. and finished the first sleeve in 1 1/2 weeks. I took this picture of the body, pattern, and sleeves two days ago — sorry for the blurriness. The second sleeve is now just 11 patter repeats from being done. Once this sleeve is finished I expect to be able to zoom through the top and finish it. I'll report next week on how far I get from this point.
I should also note that I've made a change from the pattern. I continued a strip of garter stitch up the outside of the sleeves (10 stitches wide).
Next Thursday, I'll post another photo of the Cobblestone Sweater status. It feels good to be back into knitting again.
I can't believe how long it has been since I last posted here. Time continues to get away from me. I've got the drafts of at least three book reviews and hope to get them up the first of the year.
Also, have been working on a sock pattern — my own design so I'm pretty psyched up about it. It's a toe up and I'm to the point of starting the heel and have been dithering for months over which type of heel would work best for this sock. I think I've finally made up my mind and now I just have to get knitting again.
An observation on getting older:
Finger snapping:
Why does getting older mean you have pain when you try to snap your fingers? I used to do that all the time when I was younger. You know. SNAP. I got it — the shouting Eureka in the streets thing with a finger snap. Now — even though I don't have arthritis in my fingers — it hurts to snap. But, since I noticed I try to do it a few times a day and it's getting better.
My guess is that as you get older you don't do it as often and the muscles you haven't used then just have problems working in that way. So, practice keeps the skill going.
If you've got another explanation I'd love to hear it (well read it).
So, book reviews and sock photos are on the horizon.
Today we went to Maryland Sheep and Wool. We had a great time considering we walked constantly from arrival to leaving — about 7.5 hours. Driving time 1.5 hours each way.
We're home now. My knee feels like it is the size of a basketball and my back is reporting that it's filing for a separation. If it wins, I guess I'll be flopping around but at least it won't hurt anymore.
We used the GPS to get there this time. We've got one and thought we'd give it a try. It took us off the route we usually take for the last few miles and at first we thought it knew some new way to get to the parking fields. Nope. It put us on a major divided highway and then announced we'd arrived at our destination. Of course we had arrived. The fact that our destination was just off the highway down a gully and over a fence separating it from the highway was of no concern to the GPS. We had a good laugh about parking on the highway and scaling the fence and took the next exit and backtracked to the actual entrance to the fairgrounds.
Crowds we thick on the grounds. We hadn't been for the last two years so we surprised to see whole new areas opened to vendors. I'll write more later but I've got to take some pain meds and ice a few bits of me. We took pictures but have no idea what will come out and what is fuzzy so will post those later.
It's amazing how tired one can get from fresh air and sunshine. I feel like I've been up and moving for a week — and a tough week at that.
Tags: Maryland Sheep and Wool
It seems that it's been quite a while since I did an update. Partly it's because I've been busy. Partly because I'm been a bit under-the-weather. And, partly because everything I'm trying to do has a "but first…" clause.
But first you have to do this before you can do that but before you can do that thing you need to do this other thing. I swear I'm in the midst of some sort of infinite loop part of my life. Eventually, I'm sure I'll make a break out of this loop — there's got to be a stop condition somewhere.
Meanwhile, I started a scarf. I needed something I could do a little bit on when I'm waiting for CPU cycles to finish up. I'm trying to break myself of wasting time playing games. If I knit while waiting at least I'll have something to show for all those 15, 20, 30 second time wasters.
We're also gearing up to get the February issues of SFRevu and Gumshoe Review up and online for February 1st, 2011. Gumshoe Review will have a new original short fiction story by Douglas Campbell in February. Since it's near the end of the month most of the reviews and content materials are coming in to be formatted and proofed. It should be a great February issue.
Tags: Gumshoe Review, SFRevu