Browsing the NaNoWriMo category...

Last year I signed up for NaNoWriMo — that's the site where you sign up to write a novel in 30 days. I didn't do too badly. I wrote about 3 chapters worth before life landed on me with both feet. So, what do I do this year? I signed up again. You see, I like deadlines. Seeing a deadline coming up on the horizon tends to focus me quite nicely until it whooshes past my ears with that nice breeze. This year I'm already working on an outline so hopefully but the start of November I'll now where I'm going with the story. At least, that's the plan anyway. Last year I think I was just too unfocused on the story. I learned a lot about writing and me last year and I hope that knowledge will help me this year.
If you're also doing NaNoWriMo this year, let me know. I'd like to hear how this novel in a month works for others.
Today is November 14th, and it's my birthday. Not a great event in the scheme of things but it is a time when I usually reflect on what I've done over the past year and think about what I plan to do in the coming year. To me birthdays are more like new beginnings than New Years Eve.
Looking over the past year, I've done a lot. The acupuncture has helped in reducing my pain so that I can function almost normally. I still have trouble concentrating at time and I certainly couldn't do a standard nine to five in an office. I need breaks, lots of them and working from home fits that bill admirably. The problem of working at home is motivation. I've tried various methods of staying on track and keep refining and tweaking and hopefully will get even more focused and efficient over the coming year.
I've fallen behind on the NaNoWriMo word count. Don't know if I can make up the difference by the end of the month. However, I have learned that if I push myself I can keep from fiddling with what I've already written. I hope to push through on this book even if I don't make the end of the month word count. It's been a good experience so far and I may do it again next year.
I've a lot to be thankful for. I've made some great friends over the past several years. One of my failings is in not expressing just how much people mean to me and how precious they are. My goal is to be much better at keeping in touch and following up with friends and family.
I've got unfinished projects all over the house: three pairs of socks, two sweaters, three spinning projects. I've somehow got to manage to schedule time for these. Lately, I've been working on one of the pairs of socks while watching movies. I did manage to start these socks on circular needles knitting both socks at the same time. I'm feeling pretty chuffed about that. When I'm done I'll be done with that pair at least. But I still have a ways to go to get to the heel (toe up by the way).
So another year older, maybe wiser, maybe not — but working on acquiring knowledge — knowledge of myself, the world (its people and cultures), and just about everything else that strikes my fancy.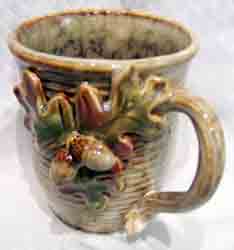 Wow, it's the first of the month and I actually have the picture of this month's coffee cup ready. For this month, I chose a very fall-ish cup. It's in shades of brown and you can see that the interior of the cup has the same coloration. There's a handle that's more like a twig and a cluster of leaves with acorns. I've used it all day and it's comfortable to hold and drink from.
I actually picked this one up last month at the same time as I spotted my December cup. I've been picking the cups up in various places, but November and December are both are from Home Goods. They tend to have some interesting household items for not much cost. At least their coffee cups are cheaper than the same old/same old ones in the grocery store and discount stores.
Mostly, the changing cups of the month gives me a lift and keep my spirits up.
November 1st is also the start of NaNoWriMo or National Novel Writing Month. You sign up and then try to write a novel in a month or 50,000 words. I've set myself a goal of between 2,000 or 2,500 words per day. I think I might have to take a few days off because my son is flying down for Thanksgiving, so I'm hoping to get ahead a bit. Today, I managed 2,163 words.
I've got several starts on novels in my writing folder. The rules say you can't work on anything you started and I've had this idea in my head for a while. I have a few scattered scenes and today I managed to write up two of them and then it just flowed into the next one. I'm hoping I can keep going. What I've promised myself is that each day, I'll just keep going. I won't look back. I won't worry that it isn't perfect. I won't even care if I switch point of view because that will all be fixed once the novel is written and I go over it to bring it into shape and closer to a finished novel.
Right now, I'm feeling pretty good about what I've done.
To top off the day, I got the dining room table mostly cleared off. [Hyperion: And I helped!] Remember — company for Thanksgiving, sort of need the table for that. It could take me all month to completely clear it off but today was a good start. Also, finished one of my books I'm reviewing for December, I'm hoping to write that review up tomorrow — if I can manage it.
Looks like November is going to be a very busy month for many, many reasons.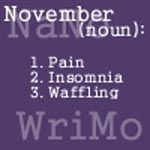 All you got to do is swim, swim, swim. Anybody else remember the Dory swim song from Finding Nemo? It keeps running through my head. It's the 30th today, soon to be the 31st of October. You know what that means? It means I've got to have all the zines ready to go live tomorrow night.
Two zines completely ready to go live on November 1st. Has panic set in yet? Nope. Nada. Nyet. I'm beyond panic. In an incredible feat of inattention and denial, I completely forgot that there was no author interviews scheduled/done/planned/whatevered for Gumshoe Review. I can't believe it — I've already been chastised by the clue fairy and promise to do better for December. Then the big surprise interview for SFRevu fell through at the last minute. That one's not a complete wash since it's just a matter of getting the author's okay on the final transcript so we can publish it. So hopefully, December will have an interview that will knock everyone's socks off — or space boots.
Meanwhile, I've been formatting, proofing, and writing my own reviews all day. Only got six more of mine to write up. I've really got to write them within a day of finishing the book. Really, I know it. Luckily I take lots of notes while reading and even jot down phrases I want to use — most of which never see the light of pixels but nonetheless help me write a review days after reading the book.
I also joined NaNoWriMo. I've never done this before and I'm sort of looking forward to the challenge of writing a novel in a month. If nothing else it will get me in the habit of writing a set number of words per day to meet a goal. If you're also taking part in this year's NaNoWriMo let me know. On the website, I'm using Iskusva as my Id — don't ask, it's a long, long, winding road of a story for that one. I liked this icon from the NaNoWriMo LiveJournal Icon blog — if only it mentioned lack of caffeine and the plot bunny.