Browsing the Review category...
Tudor Roses by Alice Starmore.  ISBN: 978-1606600474.  Hardcover. Calla Editions; Revised Expanded edition (November 8, 2013).
There are a couple of things that I can tell you right off. First, this edition has no sweaters for men. So the Henry VII and Henry VIII sweaters are missing. Second several of the women's sweaters have been revised. There's also a couple of new sweaters for women in the Tudor line.
[Reviewing Note: I own the original Tudor Roses, 1998 edition, and will try to give my impressions as to the changes as I go through this new edition. Note that I'm reviewing a digital advanced reader copy so while I have photos and text information, I can't comment on instructions as this copy not formatted for reading the knitting instructions and all the charts are missing and formatting was problematical.
4/28/17 Update: I bought a copy of the newly revised hardcover edition of Tudor Roses because I feel in love with a couple of the new sweaters, now seeing others in these new richer saturated colors — well I found myself willing to buy this copy.]
Below is a photo of what I mean by richer colors. The photo from the new book is on the left and the old book on the right. Photo were snapshots with my phone's camera with flash.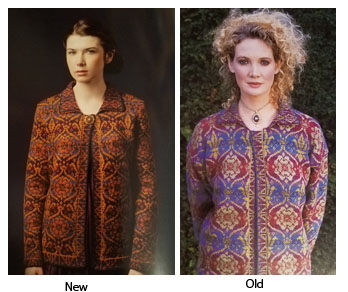 A major difference is the sweater photos in the 1998 version were mostly taken outdoors in natural settings. This new edition is more controlled with studio photographs (several of each knitted item) against a black backgrounds. This makes for more uniformity in displaying the knitted items and keeps the focus on the pattern, style, and colors.
All of the women's sweaters from the 1998 version are in this version though the color choices have changed for many of the sweaters. There are also several new sweaters each named for a woman important to the Tudor line: Elizabeth Woodville, Margaret Beaufort, Lady Mary, and Mary, Queen of Scots. Though some of the sweaters for the women have changed as the sweater on the cover of the new edition is Jane Seymour's and in the 1998 edition her sweater was a pullover.
Here's a partial list of the differences between the 1998 version and this edition:
Elizabeth of York's sweater has also changed to be more of a bolero or vest instead of the original longer length though the stitch pattern is basically the same.
Margaret Tudor's sweater is shown in a cream and the sleeve pattern has been changed while the body is the same.
Anne Bodeyn's sweater has changed to a stunning fitted jacket that draws the eye with a contrasting thin stripe detail.
Katherine Howard's sweater is the same but the color is now dark blue with a liter blue for the diagonal stripes giving it a bit more drama.
Each section starts with a short letter from the point of view of the woman featured, giving a flavor of who she was and how she viewed her place in the world. I found these short notes to be touching and to bring this woman to life as a person not just a historical figure. Reading these notes made it easier to see how the sweater fit with their personality and position which added an extra layer of enjoyment to the book.
I'd suggest going to the Amazon website and take advantage of the Look Inside feature to determine if you wish to purchase this book. It is a beautiful edition with just enough changes to make it worth purchasing even if you do own the 1998 copy. However, others may have a different view of buying a new edition of an already owned pattern book. Check it out and decide for yourself.

A Jane Austen Devotional by Thomas Nelson, Inc. Compiled and written by Steffany Woolsey. Cloth bound hardcover. ISBN: 978-1400319534. 224 pages. Thomas Nelson; Gift edition (January 10, 2012). (Amazon: $10.76 / Kindle: $8.79)
Each day of the year has a quote from one of the novels of Jane Austen or from one of her letters to family. If you love all things Jane Austen then this is a lovely volume to have. It's not a calendar but more of a jumping off point for meditation on family, friends, society, expectations, and daily life.
Tags: Emma, Jane Austen, Mansfield Park, Northanger Abby, Persuasion, Pride and Prejudice, Sense and Sensibility

Manga Classics: Emma by Jane Austen; Adapted by Crystal Silvermoon, Edited by Stacey King. Illustrated by SunNeko Lee. ISBN: 978-1927925355, Udon Entertainment (June 18, 2015). List Price $19.99 / Amazon $16.93.
Continuing their Austen classics in manga format, Udon Entertainment has released Emma by Jane Austen, adapted by Crystal Silvermoon. The story stays true to the original plot.
Emma's governess turned companion, Miss Taylor, has just married a local gentleman, Mr. Weston. Emma feels that the marriage proves her ability as a matchmaker and she sets her sights on finding a marriage partner for her new friend, Harriet Smith. Emma believes the new cleric, Mr. Elton, would make a good match for Harriet. Unfortunately for Emma, Mr. Elton has a totally different idea for the role of his wife-to-be.
Emma, as it soon becomes obvious, isn't as astute an observer of the people around her as she believes she is. Even with warnings from her brother-in-law and close friend, Mr. Knightley, she forges ahead with her plans. There's a few other plot lines involved in the story as Mr. Westin's son, Frank Churchill, visits the area about the time a local widow's niece, Jane Fairfax, drops in for a visit.
Misunderstandings, confusion, embarrassment, and of course a few twists and turns as well as a surprising and a few not so surprising matches between various characters occur. Austen's books often, or should I say always, end with a wedding or at least a proposed happily ever after to follow the last page.
The artwork is lovely, as you can tell from the cover image. As with most manga, you read from the back of the book to the front and there is a short tutorial explaining how to read the pages (top to bottom but right to left). For those who have never read manga before this is a nice touch so you get off to a good start.
For true fans of Austen's works you will find some liberties with the social conventions that existed at the time of the story. Women could not write to unrelated men — but, this does take place in this book. There's also several other social convention that would not have happened to the characters due to their positions in society so some scenes are a bit jarring.
This adaptation will give readers the storyline and the characters with much of the same delightful tone as the original work by Austen. This is a great series and a wonderful way to introduce readers to these classics.
Tags: Jane Austen, literature, Romance

Manga Classics: Les Miserables by Victor Hugo; Adapted by Crystal Silvermoon. Illustrated by SunNeko Lee. ISBN: 978-1927925164, Udon Entertainment (August 19, 2014). List Price $19.99 / Amazon $16.57.
I should confess that I've never actually read the original version of Les Miserables by Victor Hugo. I always thought I knew the gist of it. It was about the the revolution in France in the time of Napoleon. There were two lovers. A corrupt officer of the government had a vendetta against a man somehow related to the lovers — or one of them. And a miserable time was had by all.
So, I read through this manga and was totally surprised at the details of the story. Like any modern person I turned to Wikipedia to read the summary of the story and found that it matched the Manga. Maybe now I'll skip the movie — though I do love the music.
Basically, Napoleon Bonaparte has been defeated and the economy is crappy. People don't have enough to eat, jobs are scarce, and the law is extremely strict. France had a guilty until proven innocent view of justice. Since it is very difficult to prove a negative, many, especially the poor, found themselves in prison.
The story follows several different people and moves forward and backward in time to bring each of them into the story and up to where the threads of their story weave into the main story line. This makes for some odd disconnects until you realize the story isn't continuing, but going off on a tangent to come back to the point you were at later.
Jean Valjean had been released from prison but since all his papers labeled him a convict his chances of getting work were slim. He was even refused to be allowed to purchase food or lodgings with what little money he had out of fear that being involved with him would get them in trouble with the law.
Through a series of convenient events, he manages to gain some funding to pass himself off as a wealthy man. Then to pay things forward, he sets about to do good for those who live in his community and work in his businesses.
Fantine had been dumped by her lover when she had a daughter, Cosette. And so she was unable to find work because of her loose morals. She sought work, and found people who she thought would take good care of Cosette for her while she worked. It was expensive, but she thought it was a better life for Cosette.
Javert, a police office/military-type, hated convicts and felt that they could never be reformed, and therefore must always be returned to prison, whether they did anything wrong or not. He'd once been Valjena's jailer and when he thought he recognized him — he began to be obsessed with hunting him down and seeing he was returned to prison.
These are the major characters. Through other circumstances, Valjean promises Fantine to raise her daughter and take care of her. He and Cosette then proceed to move about, always a step ahead of Javert and doing what good works they can where ever they lived. Of course, as Cosette grows up this becomes more and more difficult as she attracts attention as does their wealth.
Will Cosette find love? Will Valjean be able to give her into another's care? Will Javert ever give up his crusade to find and punish Valjean? Can he ever be convinced that convicts can be redeemed? Into this steps the revolutionary uprising among the students of Paris. This is actually a minor side note of the story, but one that is important to bringing all the pieces together.
The artwork is wonderfully detailed. The characters can be individually identified — which I find very important. The story unfolds smoothly — except for those flashbacks and flashforwards I noted previously.
All in all, I believe that if you've been interested, this is a great way to become familiar with the story and the characters. It's well adapted and illustrated and a great way to get a taste of classic literature if you don't want to spend the time reading the original works.
Tags: Classic Literature, Manga, Victor Hugo

Pride and Prejudice by Jane Austen. Story Adaptation by Stacy King. Manga: Classsic Literature. Morpheus Studios (Illustrator), Shane Law (Illustrator), Po Tse (Artist). Udon Entertainment (August 19, 2014). Price: $19.99.
Stacy King has adapted Jane Austen's Pride and Prejudice for a manga-reading audience with illustrations by Shane Law, Po Tse, and Morpheus Studios. Whenever a story is adapted for a different media format, choices must be made in order to use the strengths of the new media to tell the story. Overall this adaptation is beautifully done. The basic storyline is intact and the artwork is beautifully rendered as you can tell from the lovely cover image (though the interior artwork is all in grey scale).
The basic story is a love story that threads its way through horrible first impressions, misunderstandings, pride, and prejudice. Elizabeth Bennet, the second of five daughters of a country gentleman and his wife, is insulted when she overhears Mr. Darcy's response to his friend, Mr. Bingley, urging Darcy to dance with her. Mr. Darcy is actually shy and uncomfortable in crowded social situations but she doesn't know that at the time. Later Mr. Darcy realizes that she's witty, educated, and not fawning over him; thus, he finds himself falling in love. Meanwhile, she is fed a lot of balderdash about Mr. Darcy from a man who has "all the appearance of goodness" and makes a grand impression on all he meets. There's also a secondary love story involving Jane Bennet, Elizabeth's older sister, and Mr. Bingley. As with most love stories things work out in the end but the journey is what makes the story a classic and loved by many no matter what format it takes — book, film, and now, manga.
Still, the problem with adaptations is that choices need to be made. This time the story is told and shown to be set close to the period in which Austen originally wrote it. However, the societal mores of the time depicted in this version do not match those that existed during this time period. For example, in the version of Longbourn shown in the artwork, no member of the Bennet family would be answering their own door let alone folding the linens; there would be servants to do such work.
It was a time when the distinctions of class were kept to and there were many rules of behavior that now-a-days we'd find archaic and maybe even silly. Upper class single women could not write to an unrelated male unless she was engaged to him. She's have to write to his mother or sister and leave it to them to pass on the information. People could not simple talk to another person — they had to be formally introduced first. In fact, public venues such as assemblies usually had a designated person who was responsible for introducing people to one another if they were not yet acquainted and wished to meet. There are many instances where modern social customs are referenced that would, in the original work, be offensive to the characters of that time period. This may bother readers who are familiar with the original Austen work and time period — new readers reading Austen for the first time would most likely not even notice these issues.
However, if you read this version and enjoy it, you may want to read the original Austen novel on which it is based because the actual story is one that transcends the time in which Austen wrote. It's universal appeal is why her works live on. Not only have her novels been adapted for film, manga, and classic comics, but they have, by other authors, been updated to modern times and still they resonate with readers.
Overall, this is a wonderful adaptation and a great way to interest new readers in classic literature.
Tags: Jane Austen, literature, Mr. Darcy, Pride and Prejudice
Trackback
• Posted in Entertainment

The Giving Quilt: An Elm Creek Quilts Novel by Jennifer Chiaverini. Dutton (October 30, 2012), ISBN: 978-0525953609.
The Giving Quilt is part of the Elm Creek Quilts series of books. One of the greatest joys when reading a book in a series is that you, as a reader, get to visit again with characters you've come to know and care about. In this case the continuing characters are the instructors and workers at Elm Creek. The stories never get stale because ever book there's a new group of people who have arrived to take class or teach a class. Each of these new characters bring with them their own set of problems and concerns — the plots and story lines flow naturally from the events or lives of participants before they arrived at the seminar and their interactions at Elm Creek.
In The Giving Quilt, the theme is Thanksgiving and all of the emotional turmoil that can arise when family, jobs, or life situation isn't what you want it to be but you feel that you have no control over what is going on. The women that come to Elm Creek all want to make a difference for others. They are all giving of their time, energy, and quilting stashes to make quilts for others. But they also have lives outside of this event and like all our lives they have problems they are dealing with and in one degree or another are feeling stretched and bereft of hope for the holiday season.
Each of them have a problem or problems that we've all at one time or another dealt with and can relate to as we're reading. Chiaverini's writing pulls you into the story and while reading you feel more like an invisible member of the group listening in on the lives of these women. There's joys, sadness, loss, growth, and friendships forged between these women who happen to meet and share a passion for quilts.
I don't want to give details because that would take away from your chance to meet these women and become part of their group while learning about their lives before they arrived for the session and following them as they return to their homes and the lives they put aside to attend this event..
Good strong character development coupled with writing with heart and interesting story lines keep me coming back to the quilters of Elm Creek. I hope you also find that when you close the covers after the last page, that you're ready to face the ups and downs of your own life with a lighter heart knowing that other people also have problems and somehow manage to move forward, solve the puzzle, deal with the job, or whatever. Never preachy just solid stories that don't sugar coat the problems or solutions but somehow leave the reader with renewed hope and a less jaundiced view of life and the world we inhabit.

Handknit Holidays: Knitting Year-Round for Christmas, Hanukkah, and Winter Solstice by Melanie Falick with Betty Christiansen. Photograph by Susan Pillard. ISBN: 978-1-4532-6816-2. STC Craft | Melanie Falick Books (October 30, 2012) (Hardcover: $12.46; Kindle version: $6.99). (Review based on a digital review copy.)
As you might expect this book has a few things for just about every holiday (Christmas, Hanukkah, and Winter Solstice — missing is Kwanzaa but with an adjustment for color some items would fit for that holiday) grouped by patterns for the home, and gifts (for men, women, and children). Many lovely color combinations — some bright, some colorful neutrals, and some monotones — as well as texture (cables) and lace. There's also patterns for just about all skill levels — so no matter how long you've been knitting you are bound to find something that you can knit. The patterns also have a number of techniques that would allow a knitter to try out something new as they knit for a family member or a friend.
I counted about 50 patterns but several are variations rather than new patterns so depending on how you count you'd get different numbers. Also, there are tips and special techniques, abbreviations used in the book, sources for supplies, various holiday facts and short bits, a list of greeting for the holidays in several languages, holiday knitting strategies.
There are patterns from the following people: Susan Alain, Suzanne Atkinson, Veronik Avery, Betty Christiansen, Amanda Blair Brown, Carrie Brenner, Cynthia, Crescenzo, Sandy Cushman, Teva DUrham, Nicky Epstein, Norah Gaughan, Priscilla Gibson-Roberts, Kim Hamlin, Michelle Heyman, Penney Kolb, Faina Letoutchaia, Robin Melanson, Nancy Minsky, Annie Modesitt, Jillian Moreno, Kathy Pasusta, Leigh Rackford, Michele Rose Orne, Leslie Scanlong, Iris Schreier, Jo Sharp, Cindy Taylor, Jolene Treace, Gina Wilde, and Anne Woodbury.
I found several things I wanted to make and lots to make me take a few minutes to dream over and wonder who I could make it for because I couldn't wear or use it but it was sooooo nice. There were some interesting gift items — gift bags that could later be used as purses seemed very nice. The stocking to 'hang by the chimney with care' were lovely and would make nice heirlooms for children or grandchildren. There were even some nice shawls and sweaters that those hard to knit for teens might like and actually wear.
All in all a great book for finding holiday gift ideas. I read the digital review copy and before writing this review, I pulled down a sample copy to check to see if my problems with the uncorrected review copy were fixed in the 'for sale' electronic version. It appears that most of the problem area were corrected. I still have a bit of problem with the format going from 3/4 of a page to full page but it's not something that should take away from the great photos and the directions/patterns for the items — but if looking to get a digital copy be sure to look at the sample first.

Great Little Gifts to Knit: 30 Quick and Colorful Patterns by Jean Moss. Taunton Press (September 3, 2013). ISBN: 978-1600858475. Photographs by Burcu Avsar. Charts and Schematics by Jean Moss.
Great Little Gifts to Knit has a subtitle, 30 Quick and Colorful Patterns and the photos are enticing and beautifully done, pulling you on to see just how difficult or easy that lovely pair of mittens, hat, shawl, or sweater really is to knit. The patters are arranged in four sections: Baby, Hers, His, and Home. There's far more patterns in Hers than in any of the other sections.
There are patterns for beginner, intermediate, and advance knitters. There's a fairly comprehensive tips and techniques section and some of the patterns focus on a technique such as intarsia, shadow knitting, knitting in the round, Fair Isle, chart reading, and twisted stitches. A beginning knitter could learn a lot of new techniques/skills by simply knitting one of everything in the book.
These patterns are, in my opinion, a step up from most books of gift patterns in that there are a lot of items I'd really like to knit in this book. My bias is toward simple classic items with texture, color, or both. Though there's also a good mix of items you'd have to concentrate on such as the Fair Isle child sweater, and then ones that you could take with you and knit while listening or being sociable because it has lots of easy to remember pattern sections.
All the patterns in the books were done with Rowan yarns which are lovely, beautiful yarns that can be a bit pricey for those on a budget. Moss includes the gauge that should be achieve for a successful result. She also specifies when gauge is not important. So, don't skip knitting a gauge swatch if you chose to use a different yarn. There's also a small section in the appendix to help you choose a substitute yarn for your project. There are also a few projects that could probably be done with left-over yarn from your stash such as the bean bags.
At first I thought the major drawback was that the time frames were listed as one day, weekend, or vacation. Since we don't know the length of time in each of those units devoted to knitting it is difficult to say how long they would take. On reflection, I come to the conclusion that this lets you take as much time as you need without developing a complex about your knitting speed — or lack thereof. My problem is that I usually knit while doing something else like watching a DVD or even reading, so I'm really a slow knitter — at least I never ever get anything done within the time frame given in books.
This is definitely a book worth looking at because it just might surprise you with its variety of projects and the opportunity to try new techniques.