Browsing the Road Trip category...
Today we went to Maryland Sheep and Wool. We had a great time considering we walked constantly from arrival to leaving — about 7.5 hours. Driving time 1.5 hours each way.
We're home now. My knee feels like it is the size of a basketball and my back is reporting that it's filing for a separation. If it wins, I guess I'll be flopping around but at least it won't hurt anymore.
We used the GPS to get there this time. We've got one and thought we'd give it a try. It took us off the route we usually take for the last few miles and at first we thought it knew some new way to get to the parking fields. Nope. It put us on a major divided highway and then announced we'd arrived at our destination. Of course we had arrived. The fact that our destination was just off the highway down a gully and over a fence separating it from the highway was of no concern to the GPS. We had a good laugh about parking on the highway and scaling the fence and took the next exit and backtracked to the actual entrance to the fairgrounds.
Crowds we thick on the grounds. We hadn't been for the last two years so we surprised to see whole new areas opened to vendors. I'll write more later but I've got to take some pain meds and ice a few bits of me. We took pictures but have no idea what will come out and what is fuzzy so will post those later.
It's amazing how tired one can get from fresh air and sunshine. I feel like I've been up and moving for a week — and a tough week at that.
Tags: Maryland Sheep and Wool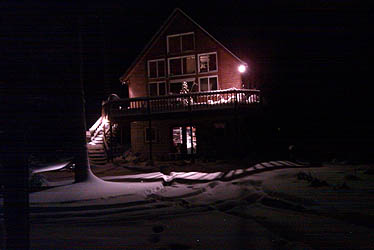 It started snowing last night.  We made it home from a WSFA meeting.  Of course the usual 45 minute ride took slightly over 2 hours and had its moments of sliding and slipping but nothing too bad.  We did meet a nice woman who couldn't get her car up the hill because she didn't have front wheel drive.  She warned us of the abandoned car at the crest.  We made it up with no problem and finally got home.  Slow and steady seems to help even non-turtles get where they're going.
But, that experience last night on the way home was what fed our unbelievably silly actions today.  Pride goeth before a  fall and while we didn't fall — well we did slip and slide and have lots of other adventurous stuff happen.  You see … we'd sold some books on Amazon and we thought we could mail them out on time if we did it today.  The snow didn't look that deep.  Really, it didn't– maybe a foot.
Well, dressed and packed and in the car, we started out.  We'd agreed if when we got to the real road and it was not looking good we'd turn around and come back. Those of you who have been reading for a while know our mailbox is about a quarter mile from the house and that's where the real road is — the road that is our address. So off we started on our adventure.
We got about 1/2 way to the road when disaster struck. We hit ice beneath the snow and slide and fish-tailed and other fine movements of driving adrenaline surges. That stopped our slow and steady pace and we just never got it back. Hyperion walked back to the house for the garden shovel (we intended to buy two shovels while we were out, the one from last year had mysteriously vanished) and some gravel. He came back with the garden shovel and the stiff plastic broom and a bucket of gravel. He shoveled. I swept. We cleared out a large area around the car and under it.
Seems the snow was deeper here — maybe 15 inches and it was dragging on the undercarriage of the car. You can probably guess the rest. An hour and a half later we've shoveled a good percentage of the road/driveway maybe 30-40 feet (if added all together) and we haven't really gotten enough stability and movement to turn around. I'm really dragging. We're both soaked. So, we headed home — walking. Luckily only about 1/6th of a mile. In snow which is by now 18 inches deep. Even walking in our tire tracks didn't make it much easier.
To shorten the story. We peel out of the wet clothes changed and got into dry things. Took a short break with hot chocolate and lots of hind-sight evaluations, head-shaking, sage but too late advice to each other, and the knowledge that we still had a car sitting out there in the driveway and not quite far enough over to let a snowplow (which we devotedly hope to engage tomorrow) to get by.
After several rousing games of rock, paper, scissors, lizard, Spock– I got to stay home and do the wash and get supper started and Hyperion went out with shovel and a heavy heart to see about moving the car either into the tire tracks and home or far enough off to the side for the wished-for snowplow (if it can be made to appear) to get by. He didn't have much time, we were losing the light and it was still snowing.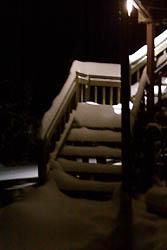 He managed to move it over. Get home and once again dry off and dress warm. We made Shepherd's Pie — can't think of a better comfort food item for today. It's still snowing and is expected to all night tonight. [Photos taken this evening.]
Tomorrow is another day. Maybe. More humbly, we'll be able to retrieve the car. Find some real shovels and put this all behind us. Can't believe we were this clueless. It must be the scent of Christmas just fogged our brains.
Tags: Snow
I spent most of today trying to catch up on all the TODO notes I have hanging about my workspace. Tomorrow is our last day to get stuff done for the November issues of SFRevu and Gumshoe Review before leaving for San Jose, CA and the World Fantasy Convention.
We leave in the middle of the night on, or early Thursday morning, depending on your point of view. We'll be posting about the convention because we're attending specifically to cover it and to talk with other people in the field (and hopefully get a chance to get to know the Capclave 2010 Guests of Honor).
I'm really looking forward to the convention but dreading the ordeal of airport security. I don't do really well standing in lines and not being able to pace. For some reason I get dizzy and feeling weird if I have to stand in one spot for any length of time. It would be easier to face if I actually believed that all their security theater actually made me safer but let's face it, most of us know it doesn't make us safer, it just is so inconvenient that we start to believe it must have some positive result. Anyway, that's just my opinion and I haven't seen any thing to make me change it lately.
So, now I have to decide what to bring to read on the plane/in the airport/while waiting in long lines. I'll most likely end up with the books that I haven't gotten to yet and I'm supposed to review by November 1st. This month has been unreal in its ability to gobble up my time. More about time in another post.
Tags: Capclave, fantasy, Gumshoe Review, SFRevu
NOTE:  We forgot to post last night when we got in.  We were so excited to be home, we unpacked dragged in the bags and just went to bed.  This morning we got up returned the rental car, got the mail we'd had held, watered the garden (lost the lettuce while we were gone), and otherwise cleaned up from the trip.  Tomorrow (Thursday) it will be back to the grind.
Didn't get to post last night (Monday). We got into Terra Haute at about midnight or a bit later. We stayed at a Days Inn. I was so exhausted I just plain crashed. Hyperion managed to send some email and update a few people on where we were and then he turned in. I think we had lights off by 1 am (Hyperion here: It was 1 am because we changed time zones and I set our watches forward. From the time we entered the room, we we had the lights out within 15 minutes). Then we were up at 7 to start all over again. We hope to be home before midnight tonight (depending on how many stops we make along the way).
Yesterday (Monday), we stopped in St. Louis to see the Arch. We intended to just stop and take the tram to the top and then leave. Turns out they have a museum and two stores (Hyperion: Otherwise known as Money Suckers). Driving into the city, you catch a quick glimpse of the Arch and then it seems to disappear behind buildings, trees, bridge abutments, and other city architecture. When we actually turned to get to the parking lot and could see it — well, it's so breathtakingly slim and shinning. I couldn't believe there was a tram inside it. Then we walked up to the Arch. It's huge. Tall. Overpowering but still slender and graceful — how do they get that tram in there. We paid for a ticket and caught the tram up. It's more like a ferris wheel car and more or less goes up with a ratcheting motion as it changes angles within the structure. There's a stop at the top and you can spend as much time as you wish there taking pictures out the small viewing windows. It's over 600 feet high (think 60 story building — waving hands and simplifying like crazy). Lovely view of the city and river (with riverboat casino and helicopter pad).
After returning to the bottom level, we took a quick trip thorough the museum. It's set up in concentric circles and as each circle moves out from the entryway it's a different era until the modern era is the back wall. As you move around clockwise, the exhibits represent different concepts: Indians, soldiers, settlers, politics, etc, so that the whole forms a two dimensional space-time representation of the western expansion. There were way too many exhibits, plaques, material, and dioramas to see in the time we had so we took some pictures and hoped that the museum store would have a short booklet on the museum and it's exhibits. I'll save you the suspense, they didn't. What's up with museums? Most, if not all the museums (the historical ones mostly), never have books on their exhibits. I love museums and I usually buy the exhibit books so I can refer back to them at later times. Historical museums usually don't have them. I guess they assume you'll read the 40 billion non-fiction history books that they used to put the exhibit together. Not gonna happen. I want a booklet to show me what was there. Think of the money that museums, who are always looking for a revenue stream, could make from these. Again I ask, what are they thinking?.
We still dropped a bundle in the stores, mostly buying books for research, but let's be honest: We also got fudge, root beer drops, and a few gifts for Christmas. Then it was time to hit the road again. Checking the clock, we found out our half-hour planned stay had stretch to nearly three hours. And we didn't even stay to watch the official movie! Well, that set our on-the-road driving schedule back a bit. We'd originally planned to get past Indianapolis before stopping, but we still hadn't eaten, and the road was long. So we stopped in Effingham for Pizza Hut. We had to check to make sure they were still open (damn time zones!), but all was well. The two of us made up half of the total customers. We had a Super Supreme Pizza and a nice conversation about the arch and, for some reason, the book, The Life of Pi. A good friend had lent it to us on CD and we loved it. Our friend … didn't. Oh well, different tastes. So as we're getting ready to leave, the cashier/waitress/server (she was pretty much the entire crew) asked if we were local or from away. We told her that we were heading home to Maryland. She nodded and said that was what she figured since nobody local ever came that late on a Monday night. So we chatted for a few minutes about cities and big towns, and departed happy and well stuffed.
We put in a book on CD to listen to. It's Halo: Ghosts of Onyx by Eric Nylund, read by Jonathan Davis, and will probably show up on SFRevu once we get through all the disks. It's not as engaging as The Bartimaeus Trilogy: Book One: The Amulet of Samarkand by Jonathan Stroud, read by Simon Jones (which we listened to on the way to Denver). It's strictly military SF with lots of buzz words and technojargon, and quite frankly, a few really unbelievable scientific premises necessary to make the plotline work. But it kept us awake and going for a while, which is more than I can say for a certain truck driver we got behind, who was weaving back and forth across the lanes, obviously trying to make that last couple of miles before pulling off for the night. I really wish he'd done it earlier as I didn't dare pass him, since I didn't know if I'd have a lane from one second to the next.
But we reach the Indiana Tourist Info Center, got the book of hotel coupons, and darted five miles up the road to Terra Haute, which is where this whole post started.
Now, after all this, we're finally up to today where, guess what? We're driving on the road … again! Currently we're in Ohio, just approaching the West Virginia line, which is about an hour away. Just in case you're traveling on I-70 through Columbus, don't trust the signs, make sure you're in the center lane to stay on I-70. Otherwise lanes appear and disappear and suddenly you'll find yourself heading in the wrong direction. Not that it could ever happen to us, but just FYI.
After that, things began to blur.  Coffee and soda will keep you going, but there's nothing like the Appalachian mountains for sheer terror.  The Rockies are probably worse, but we didn't get up into them, so I'll just have to live with slowly climbing 3000 feet and then diving back down at a 6% grade.  Yeah, that will wake you up!    We changed drivers near Cumberland Maryland and Gayle took the wheel for the last leg.  That means she had to negotiate the  construction on I-270 and the Beltway.