Browsing the Science category...
This morning I caught sight of an article entitled, "U.S. scientists design underpants that could save lives". Actually, the article I saw pointed to this article and said something like "Military pays for Hi-Tech underpants". It was the title that caught me but it's the article that got me thinking.
Here's a the information that got me:
Printed on the waistband and in constant contact with the skin is an electronic biosensor, designed to measure blood pressure, heart rate and other vital signs.

The technology, developed by nano-engineering professor Joseph Wang of University of California San Diego and his team, breaks new ground in the field of intelligent textiles and is part of shift in focus in healthcare from hospital-based treatment to home-based management.
Well, since the military is paying for this experimental underwear, I'm sure it will get a workout in the field. But the scientist seem to be on my wavelength. Many elderly want to live at home but most have health problems. My grandmother, for a while, had the service where she could call for help if something happened to her. She canceled it because they were always bothering her to find out if she was okay. I'm sure lots of people don't like their routines upset — because we all know those phones calls only come after you've sat down with a good book and a cuppa, or settled in and are just dozing off for a well-earned nap.
But if you just get dressed in the morning and the waistband of your underwear sends biological information back to a central area that monitors — if something happens you'll get the help you need even if you're unconscious and can't get to a cell phone or landline. More people could stay independent and in their homes. Sort of a person security system instead of a home security system.
Now if they also get these briefs to deliver medication or administer the required medications as a stroke or heat attack occurs — where minutes can mean the difference between paralysis and a quick (or relatively quick recovery) that would be even better. (And yes I'm way, way overgeneralizing.)
So, something that at first looked/sounded silly has on second thought and more reading turned into one of those things you wonder why no one thought of it before. Of course, before now the technology just wasn't available to do the job.
Imagine smart underpants may be in all our futures as we live our lives in the forward direction that usually means growing older, wiser, and most likely a bit frailer.
Tags: biotechnology, research
March 14th is PI day 3.14.
It's also the day to reset clocks…hmmm I think that's a conspiracy to mess with my sense of time.
Tags: Time
Trackback
• Posted in Announcement
A NASA report says that the Chilean Earthquakee may have shifted the mass balance of our planet.
Earth is not a perfect sphere. Continents and oceans are distributed unevenly around the planet. There's more land in the north, more water in the south, a great ocean in the west, and so on. As a result of these asymmetries, Earth slowly wobbles as it spins. The figure axis is Earth's axis of mass balance, and the spin axis wobbles around it.

"The Chilean quake shifted enough material to change the mass balance of our entire planet," Gross says.
On the whole this isn't such a big problem the mass balance of Earth shifts about a lot but the shift due to the quake shifted the balance as much in minutes as it usually shifts in a year. Evidently the shift hasn't been measured yet. Shifts can effect satellite transmission, tides, winds, and day length. Some of the possible effects may be mitigated because the quake was near the equator.
The interesting thing is no one really knows how big the shift really is or what the consequences will be. Quakes have been happening for thousands of year but now we have the ability to monitor and measure changes in our planet.
Sometimes knowledge can be scary — especially when previously we were blissfully unaware of the possible dangers that earthquakes can cause other than the loss of lives and property damage.
Perhaps learning more about earthquakes and their aftermath will help us understand planet Earth a bit better.
Tags: Earthquakes
Trackback
• Posted in Environment
Today has been a real challenge. Most of last week I kept having lower back pain on top of the usual fibromyalgia issues. It was constant pain with, now and then, a bad twinge. Finally, today I just couldn't take it anymore and took a muscle relaxer.
I figured I'd been thinking it was kidneys and drinking water like crazy but it still hurt and every bend and lift was…let's just say not fun. So, the muscle relaxer. It helped. So, I'm guessing it was the muscles in my lower back all the time and while I was trying to take it easy lifting anything I was probably just making it worse ignoring it. I'm a bit floaty but the pain is now in that "over there" place. You know — you're in pain and you know it but it's like one step to the side of you so while it's here, it's over there and ignorable.
Meanwhile, we've got all the ornaments off the tree and packed. We've managed to get all the branches smooched together. Next we need to take it apart and wrap it up for storage. That's the sticky point with my back as it is. Guess that waits a bit until either I feel better or Hyperion tackles it on his own.
I really hate it when the spoon just get all used up while I still have a full TO DO list and lots of day left over. Meanwhile, I'm doing mindless knitting on my sock — the stocking knit bit in the foot so I've got 3 more inches before I have to think about the heel.
I really need many more spoons in my life. So much time so little energy and so few hours not in pain. Okay, I'm whinging again but darn it sometimes you just have to get it out so you can move on.

Okay, this has nothing to do with muscle pain, but a lot to do with mental anguish. Gayle and I watched two sci-fi movies today. Supernova and The Black Hole. Neither are the "classic" by that name, but newer and if anything, worse. Worse because you'd think after all this time movies could actually afford to have a science adviser that could tell them they're making complete idiots of themselves. Actually, maybe they do have advisers. Just because you have one doesn't mean you have to listen to them. And in these cases, they most certainly didn't. Let's take a second to hit the highlights on the lack of any conformity to high school level physics knowledge.
First in Supernova we have our sun about to go supernova. Okay, we can stop right there. Our sun would need to be about half again its current mass at the very least, so the very premise is already impossible. But wait, there's more. Why is it going supernova? Because a planetoid crashed into it. Never mind the fact that you could dump the rest of the solar system (which, including ALL the planets, is less than 0.2% of the mass of the sun) into it without causing much more than a ripple. But no, this single planetoid has "punched a hole" in the sun and caused it to become unstable. The instability causes Coronal Mass Ejections which, for some unexplained reason, seem to be aimed at the Earth time and time again. But wait, there's more. Despite the fact that CME's are huge energetic clouds of gas larger than the Earth itself, in the movie, they arrive as swarms of little fireballs that rain down and blow up individual buildings. UGH! And the solution to the problem of the impending supernova requires a suspension of disbelieve far above the capacity of this viewer. In most ways, the biggest problems with this movie revolve around the fact that the writers were incapable of understanding anything about the scope of what they were trying to meddle with.  The sun is just too big to fiddle with, and CMEs are just to big and diffuse to cause any problems on less than a hemispheric scale.
Next up is The Black Hole, in which an "accident" with a particle collider causes a black hole to form in St. Louis. Obviously based of the nonsensical ravings against the Large Hadron Collider, this movie quickly goes from the absurd to the disparagingly laughable. Quick lecture in two points. First: The energies produced by the Large Hadron Collider are of a lesser order of magnitude  then the energetic collisions taking place every second in our upper atmosphere between air molecules and cosmic rays. If those collisions haven't created a black hole in the last few billion years, the LHC isn't going to be any worry. Second: Assuming a black hole was formed, it would be a microscopic black hole which would flash out of existence in a few microseconds due to Hawking Radiation. Despite what you may have learned about black holes, they do actually emit energy due to quantum mechanical effects at the event horizon. And the smallerl the hole, the faster they evaporate.
So in the movie, we have an impossible event, creating something that wouldn't actually be of any danger at all.  Furthermore, any black hole that did form, would be subject to gravity like anything else. And since gravity is a universally attractive force, the black hole would fall into the earth (the larger gravity field) and make its way to the core in no time at all before being snuffed by the aforesaid laws of physics. But that would make a short and pointless movie. So instead we get a full scale black hole, hovering over the ground, and eating St. Louis. Interestingly enough, the black hole appears to think (like Khan in Star Trek 2) in two dimensions. Instead of gobbling everything up all around it, it swirls like water going to down the kitchen sink, slowly expanding outwards, but letting helicopters fly over it with impunity. Now we get the part that REALLY doesn't make any sense. If we ignore physics (and boy do we ever), there's not much one can do to stop a black hole that's on the rampage. So we get the addition of an alien entity that uses the black hole as a transit system from planet to planet, and feeds it by sucking in electricity. And "all" we have to do to save the Earth is kick the alien back through the black hole and all will be well again. Gayle and I yelled the solution at the TV about 15 minutes in when the alien first started moving around. Pity it took until 15 minutes from the end for the protagonist to think of it as well.
Okay, that's enough ranting for now. But be warned, there are two more movies in the collection, and as soon as my craw can take it, we'll dive into those stinkers as well. When? You'll be the second to know.
Tags: Chronic Pain, fibromyalgia, pain
Many years ago, when I was a young'un, the list of criteria for being sentient was quite short and only humans qualified. Over the years, the criteria for sentience has subtly and quietly changed as more and more animals were found to qualify. For example, some animals were found to use tools, so tool using was dropped from the list.
Star Trek: The New Generation did an episode where Data was to be returned for disassembly by an AI researcher. Picard defended Data in court to prove his sentience and rescind the order. The full text of the scene is available online.
PICARD: What is required for sentience?
MADDOX: Intelligence, self awareness, consciousness.
Picard manages to create enough of a case and create enough doubt that the judge had to find for Data. It seems to me there was a similar episode during the original Star Trek series but I'm not sure. (If anyone knows for sure let me know which episode and basic case.)
From Ask The Van: in response to question on AI sentience:
When it comes to animals, there are a number of things which scientists try to measure – here are a few examples:

(1) The ability to observe and respond to one's environment. This requires sensory perceptions and the ability to react to those perceptions. This is a pretty basic property of life, although the extent to which various creatures can do it varies widely. Most (all?) AIs already possess this ability.

(2) Intelligence. *"The ability to learn and understand, the ability to cope with a new situation" Many animals, including primates, pigs, and dolphins, have been shown to have very high intelligence. Some AI's have also been shown to possess a high level of intelligence.

(3) Sentience / Consciousness. To be *"able to feel and think". This is a tricky one. There is some very strong evidence out there indicating that certain species of animals are capable of both emotion and rational thought, but the argument hasn't yet reached final resolution.

(4) Self-awareness. In the animal debate (and also the AI debate, I suspect), this is a big deal. Does the animal have awareness of itself? There are a zillion different experiments out there to test this, and they all seem to rely on a different idea of what proves self-awareness. For example, some definitions require that an animal understand how its own movements affect the image in a mirror. Some depend on an animal's ability to lie. Some even rely on the fact that carnivorous animals don't try to eat their own flesh. In the end, this is still a very nebulous issue, and the answers aren't clear.
As you see from the above response, animals have been found to achieve many of these criteria. I've never managed to get over my feeling that we, humans, are so full of ourselves and our place at the center of the universe that we've ignored the possibility that we may share this world with a number of other intelligent/sentient species. In doing some research for this article, I ran across the following quote from Jeremy Bentham (1748-1832) from Introduction to the Principles of Morals and Legislation.
"Other animals, which, on account of their interests having been neglected by the insensibility of the ancient jurists, stand degraded into the class of things. … The day has been, I grieve it to say in many places it is not yet past, in which the greater part of the species, under the denomination of slaves, have been treated … upon the same footing as … animals are still. The day may come, when the rest of the animal creation may acquire those rights which never could have been withholden from them but by the hand of tyranny. The French have already discovered that the blackness of skin is no reason why a human being should be abandoned without redress to the caprice of a tormentor. It may come one day to be recognized, that the number of legs, the villosity of the skin, or the termination of the os sacrum, are reasons equally insufficient for abandoning a sensitive being to the same fate. What else is it that should trace the insuperable line? Is it the faculty of reason, or perhaps, the faculty for discourse?…the question is not, Can they reason? nor, Can they talk? but, Can they suffer? Why should the law refuse its protection to any sensitive being?… The time will come when humanity will extend its mantle over everything which breathes…"
Jeremy Bentham (1748 – 1832)
Introduction to the Principles of Morals and Legislation (1789)
The quote was used in an article on Ethics and discussed our anthropocentric view of sentience.
I believe that I'd got way beyond this author's views. I believe we are still very anthropocentric. In fact, as strict as we tune the criteria for sentience to always keep mankind on the top of the stack as the only sentient species on Earth — we have many people, humans, who don't feel that other humans, because of skin color, sexual preference, perceived intelligence or whatever, are really sentient or, in fact, human. Whenever humans from whatever government start a war the first thing that is done is the dehumanizing of the enemy. Evidently it is much easier to kill if you don't believe the enemy is actually "one of us".
So, the other day when I came across this article on PhysOrg.com, "Scientists say dolphins should be treated as non-human persons" (January 6, 2010 by Lin Edwards), my first reaction was, "it's about time." The article abstract states:
Scientists studying dolphin behavior have suggested they could be the most intelligent creatures on Earth after humans, saying the size of their brains in relation to body size is larger than that of our closest relatives, the chimpanzees, and their behaviors suggest complex intelligence. One scientist said they should therefore be treated as "non-human persons" and granted rights as individuals.
More than about time, but since people don't consider all people as having rights as individuals, I doubt that this will get very far. But it is a step in the right direction. As we move out into space, we need to recognize that if we were to find intelligent, sentient life out there somewhere, it won't necessarily look like us. If we can't accept the possibility of intelligent/sentient life other then homo sapiens on this planet, I don't hold out much hope for a first contact situation going very well if we should find life on other planets. The odds of this happening are increasing as current research shows that the possibility that we've found that life once existed on Mars is increasing as more research is done on available samples.
So, while I think it's time that we re-examine our relationship with the species that we share our planet with, I doubt very much that humanity is willing to accept the possibility of animal sentience, let alone plant intelligence, when so many can't accept that all humans are sentient.
Never the less, I'm leaving you with the introductory song to the motion picture, The Hitchhiker's Guide to the Galaxy". Besides being a great riff on humanities blindness to other intelligences, it's a wonderful piece. Enjoy.
Feedback on this article is welcome but unless it is more than — great article or nice blog — it won't be approved in the comments.
Tags: dolphins, Intelligence/Sentience, neurobiology, neuroscience, perception, space exploration
It has rained all day today.  It seems like it's rained more than not lately.  Matches my mood though since I've been headachy and out of sorts — maybe flu maybe not.  Hyperion though definitely has the flu but is back to work (out of sick time).  Luckily the Thanksgiving holiday is coming up so he'll get a long weekend — hopefully that will help.  Telecommuting would help but contractors are not allowed to telecommute (not that the govies are allowed to either).
Anyway, I ran into this article the other day on "Ten things mobiles have made, or will make obsolete" on recombu.com. The ten things listed are: phone booths, wristwatches, bedside alarm clocks, mp3 players, landline home phones, compact digital cameras, netbooks, handheld game consoles, paper, and brains. The author gives a reason for each choice.
I found the list and the reason interesting. However, computers were supposed to get rid of the need for paper. Remember the paperless office? Well, we still have paper — lots and lots of paper. Can't see that it's reduced in amount just because a copy of each document is electronic.
It's the phones screen size that doesn't work. I'm older and even though you can increase the font size somewhat on the smartphones it's not a pleasant experience for long term use. Though for emergencies and for keeping in touch or just giving you something to do while stuck somewhere the phone is taking the place of many gadgets.
One that was not on the list was books. Many phones now have software so you can read books on your phone. Of course I've got my Kindle but I know many people who read on their mobiles.
I don't carry a watch anymore. My cell has the time in a small window on the front. I don't listen to music on it because my mobile phone is older. I may upgrade to a blackberry or android-type soon but I'm happy with what I've got for now because I have an iPod, a Kindle, a digital camera that fits in my purse along with my netbook.
The problem with a mobile taking on the jobs of all those items is that when you lose one — the phone — you've lost them all. If I lose my phone, well I've lost the phone but I still have the music, camera, computer, and books. So, while having one item instead of five is seductive — the thought of losing everything because one item died is just too scary for me right now.
Tags: Kindle, mobile computing, society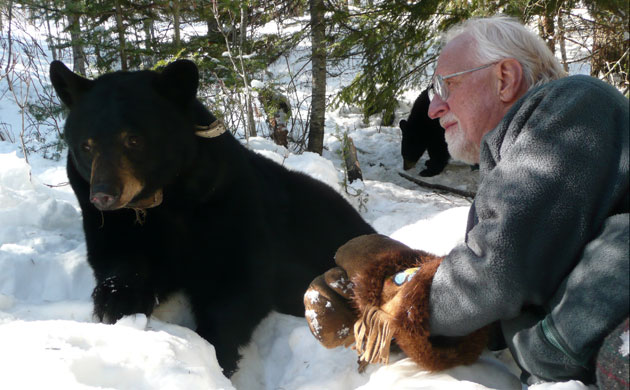 Well, I hum when I'm contented too. I couldn't resist this article when I saw it on BBC Earth News — The Man who walks with Bears. Professor Lynn Rogers has been studying black bears for the last 43 years, learning their behavior, their rules of conduct, and their idiosyncrasies. A BBC film crew followed Professor Rogers getting some excellent footage of the bears and their behavior in the wild.
What really thrilled me though is that they hum when happy and/or content. Of course, most everyone who has ever read Winnie the Pooh knows that, but then Winnie is not a black bear — he's more golden yellow. My husband and I collect bears and are always interested in them– reading most of the studies that come out on bears. We are however among those people who do not confuse the cute and cuddly plush bears with the wild in the woods ones. Though I am particularly partial to polar bears –plush and in the wild; especially this time of year.
I found this site that has some fantastic photos of the bears Lynn Rogers works with. Hope you enjoy this bear-y interlude.
I was sent the link to this YouTube video yesterday and just loved the sentiment and the music. Originally published on YouTube on September 17th, 2009 it is a beautiful tribute by Melodysheep (John).
Here's what he says about this piece:
A musical tribute to two great men of science. Carl Sagan and his cosmologist companion Stephen Hawking present: A Glorious Dawn – Cosmos remixed. Almost all samples and footage taken from Carl Sagan's Cosmos and Stephen Hawking's Universe series.
If you click on "more info" in the upper right-hand area with the links the words are listed so if you have a problem hearing the lyrics you can check the actual wording out.
Enjoy. I did. I miss Sagan's simple explanations of complex topics and his apparent joy in science.
Tags: Carl Sagan, cosmology, Music