Browsing the Socks category...

Knit Your Socks on Straight: A New and Inventive Technique with Just Two Needles by Alice Curtis, Storey Publishing, LLC (June 5, 2013). ISBN: 978-1612120089, Spiral Bound, 144 pages. List Price: $16.95 (Amazon: $11.32 / Kindle: $9.99)
In the past, I've knitted a couple of different patterns for two-needle socks. Each one was different and rather plain-vanilla in appearance. There was variation in the type of yarn used (mult-colored or one-color) or using more than one yarn color for strips. Each had a seam that varied from under the foot and up the back or on top of the foot. Mostly, I knit my socks using five needles, but I've often thought that those knitters who prefer to use two straights should also have a chance to knit beautiful socks and now they can with Alice Curtis' book.
Alice Curtis in Knit Your Socks on Straight gives knitter who are uncomfortable with knitting on circulars or multiple needles a chance to make socks. There are plain socks to get a feel for the pattern basics. Then there are some familiar lace patterns, cabled socks, and even a pattern for a pair of argyle socks. There's also socks for babies, men, and women. There's enough variation to keep a knitter happy and once familiar with the basics of her pattern a chance to strike out on your own.
The book has a nice section on basic sock how-to instructions. This section explains the way the patterns are set up and the importance of measurement and gauge and how to get both of these. It's clearly written with diagrams and directions that are simple enough for beginners and set out logically enough so experience knitters can find the bit they need without wading thorough lots of material they already know.
Caution: Each pattern, because of the seam, has right foot and a left foot instructions. This makes sense because the seam is hidden within the pattern of the sock to reduce it's appearance — it blends in. It is also critical to slip the first stitch so that you can seam the sock more easily. (There are instructions.).
My disclaimer is that I haven't yet made any of the patterns in the book thought there are a couple that I've added to my to do list. I did read through nearly all of the pattern instructions and they seemed well written and clear — but, then most knitters realize that what seems clear and concise on the first read may seem a bit muddy when the stitches are on the needles and you forgot to mark you place in the pattern.
I'll also note that there are instructions for socks with several different yarn weights.
All in all, if you don't like circulars or working with multiple needles and have been wanting to knit socks, this is your chance.
I can't believe how long it has been since I last posted here. Time continues to get away from me. I've got the drafts of at least three book reviews and hope to get them up the first of the year.
Also, have been working on a sock pattern — my own design so I'm pretty psyched up about it. It's a toe up and I'm to the point of starting the heel and have been dithering for months over which type of heel would work best for this sock. I think I've finally made up my mind and now I just have to get knitting again.
An observation on getting older:
Finger snapping:
Why does getting older mean you have pain when you try to snap your fingers? I used to do that all the time when I was younger. You know. SNAP. I got it — the shouting Eureka in the streets thing with a finger snap. Now — even though I don't have arthritis in my fingers — it hurts to snap. But, since I noticed I try to do it a few times a day and it's getting better.
My guess is that as you get older you don't do it as often and the muscles you haven't used then just have problems working in that way. So, practice keeps the skill going.
If you've got another explanation I'd love to hear it (well read it).
So, book reviews and sock photos are on the horizon.
I really don't know what's got into me lately. It seems like I'm just dragging through the days in a fog. I'm sleeping a lot but never feel rested. I'd have thought by this time now that my Capclave was over, I'd begin feeling rested and revving up on all the things I had to put on hold for the past couple of months. Guess it will take a bit longer.
Meanwhile, I spent nearly a week entering all the books that came in between two days before Capclave and when we got back from World Fantasy in Columbus, Ohio. We had a great time at WFC. It's fast becoming one of my favorite conventions along with Readercon, Balticon, and our local convention, Capclave. I also enjoy Worldcon but haven't been able to go recently since they've been out of the country (USA) this past year. Other conventions, as much as I've enjoyed them, are just a bit difficult to get to because of the economy and my husband's lack of vacation/sick time (he's a contractor and gets set back to 0 when the contract changes companies — sigh).
I've been trying to catch up on some knitting. During the foggy brain days of gearing up for Capclave, I stuck to my plain vanilla sock knitting and got 1 and 1/2 socks done. Less brain fog and I'd have expected to finish 3 pair in that time. I've finally got the first sock of the first package for the sock club I joined at the beginning of the year. It's been sitting on the tray near my chair since then because — well, I sort of think I want to make the other pattern instead. I feel really bad about that because I ended up unraveling this sock at least 4-5 times trying to get myself to not over-think the pattern or go off without reading the pattern. I guess I picked this one because it seemed more challenging and it was. But, now that I look at the finished one — it's not really the type of sock I'd wear and the other pattern is. So, as soon as I get my courage up, it's the frog pond for this sock and starting the other pattern. I'll take a photo before I pull it apart and try to post that soon (check back).
Meanwhile, just watched the second season of Fringe. There's a lot to be said for watching an entire season over a week. The long term story arcs really jump out at you when doing that. I'll post a review to SFRevu soon and let you know where to find it when I get it up. I'd like to hear what you thought of it also. Feel free to post comments.
Time to take a break and go read for a while. Have a good evening.
As readers of this blog may or may not know, we collect bears.  We also have a number of Tigers living in our house.  If any of you also have stuffed furry friends in their abodes, you may know just how often having a few critters about can be handy when things go wrong or are out of place — after all they're home all day when you're not.
So, did you ever wonder what they get up to when you're not home?
Well, I work at home so I'm here most of the time.  But, I've noticed that things go missing.  Things are often not where I put them.  I swear I put things back after I use them but somehow I have to search the whole house to find what should have been on my table/desk or near my reading chair.
So, imagine my surprise last week when I went upstairs to get my phone (I'd left it on the shelf by the bed) to find this little scenario.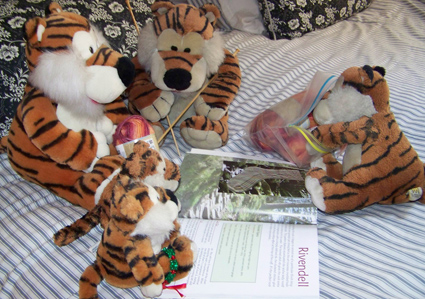 Well, this finally explains the missing knitting needles, yarn, and the occasional pattern book.  What I really can't figure out is why I don't have extra hand-knit (excuse me tigger-knit) socks in my drawer.
Sometimes I think I live in an alternate dimension — or the Twilight Zone without the weird music.
Tags: fantasy
My busy day I'll admit is not the same as most people's busy days. But for me I did a lot. (Remember I've got that whole lack of spoon things still going on.)
Well, I did the wash, dried,  folded, and put it away.
I made bread. Okay so we've got a bread machine but it's now old and wonky but I managed to get it to produce a loaf so we could have it with the chili for supper.
I managed to gain on the email. Answered, sorted, handled, responded, entered in forms, whatever. It got done. Managed to weed the backlog down to under 100 — hopefully tomorrow I'll get the rest of it taken care of.
By then the headache was starting so switched to reading some of the stuff I need to get done for March.
After supper we watched a movie and knitted on my sock — the plain vanilla one not the sock club one. I'm doing the cuff now and should finish it tomorrow. Then I get to start the next one of this pair.
See. Not much. But I feel right now like I ran a marathon. Sigh but still that's improvement.
Tags: Zombies
Today we made cinnamon-ginger donuts. Came out pretty good and we remembered to get them in containers before they could dry out.
Then it was some housework and picking up, followed by going out to do the shopping. We checked three stores looking for the 20 watt halogen lights that fit in our kitchen fixtures (4 of the 8 are burnt out — can't believe how bright it still is). Anyway, decided it was time to get the replacements and some extras. All we could find were 50 watt ones. We got the fixtures at IKEA so I guess we'll head up there tomorrow. I like lots of light in the kitchen.
Finished reading A Night Too Dark by Dan Stabenow. I'll be writing a review for Gumshoe Review's March issue. It's another Kate Shugak — short version, I really liked it.
Didn't get anything done on the sock during the last three days.  I'm up to turning the heel and I'm still hesitant about the directions.  They seem perfectly clear but for some reason I can't wrap my mind around the stitch numbers.  There are more stitches to be knit than are on my needles so I guess I need to look at the directions with the sock in my hands and with the photo.  Maybe I just need to take a leap of  faith.   Faith leaping is best done on Sunday anyway.
Tags: Gumshoe Review
We woke up this morning to this only with more fog…
The fog has lessened a bit but the sky is so grey.  The snow is light but the wind is blowing so it's hard to focus on anything out there except what's close to you. The birds have been crowding the feeder, we had refill it already today.
Hyperion drove down to the mailbox to check if we'd gotten anything. It's also a way to scrap the snow off the middle of the road where it hasn't been shoveled or plowed from the first storm so that the two wheel ruts will still allow us to get out of here if necessary. He found a plastic bag with a box and several big mailing envelopes in the snow bank that was for us but no mail in the box. He re-shoveled the mailbox out but with this wind it won't stay clear.
The wind is really howling through the upper branches of the trees. So far none have come down. It's hard to tell how much snow we've gotten so far. In some places about 6 inches in others just 2 — but with wind and drifts it could be anything in between.
Government is closed again today, so Hyperion's is home. It's nice having him around. I'm still working because — well, gee I work from home. I'm taking more breaks to sit with him but then I read (so I'm still working since the books are ones I'm reviewing for the next issue). But we've also watched a few movies over the last few days. I've got most of the foot done for my first sock from the Rocking Sock Club. I had to unknit about an inch because I didn't read that the heel started earlier than I expected (I usually start 2 inches from the heel making the extra increases and this one is 3 1/4 inches from the heel. Looks good though.
We woke up to a thin blanket of snow covering everything.  Yesterday the ground was bare of snow — today a couple of inches so far.  It's also cold.  Bone chilling cold.  I've stayed in all day.  But one thing snow means is that all the little birds in the area flock to your deck to peck at the window to let us know it's time to fill the feeder.  I didn't know birds were so clever.
Yesterday we had an incident with the kerosene heater.  It smoked.  Turned out you need to occasionally jiggle it to make the chimney seat right.  Who knew?  We'd had the same model for years and never jiggled it.  We'd used this heater for the last three months and never jiggled it until yesterday.  When it smoked I turned the heat back and it stopped and thought that was it.  Then I checked on it a few minutes later and it was smoking a bit.  I shut it off.  Then I spent the rest of the day rewashing the clothes that were in the basket waiting to go upstairs as they were covered with soot.  And washing off just about every surface in the living room where the heater is.  When Hyperion got home and got down to check it out (I've got arthritis in my knees so I don't get down that low unless I absolutely positively have to), he found that it had a label with tiny print that said to open the tiny door and jiggle the thingy if it smoked.  He did and its been working since.
Today we cleaned the living room floor and most of the flat surfaces.  I've still got to wash windows, walls, floor, and dust all the books and things throughout the upstairs and the level with the heater.  This is due to the fact that we occasionally touch things and find our fingers sooty.  Less this evening than this morning since we've been picking at this problem all day.
I really don't need these types of crises at the end of the month since we're working on getting the zines up and live on February 1st.  So, far I'm semi-keeping up.   All I've got left to do right now is finish and polish my own reviews and do my editorial overviews of the issues. I can see the home stretch just down that long, long, tunnel — the one with the light at the end.  At least I think it's a light, but it could be a train.  Is that a whistle I hear?…
The good news of today is that my first package for the Rockin' Sock Club came from Blue Moon Fibers.  I'd looked at the blog and on the Ravelry forum and so many people were reporting that they'd received their yarn and patterns.  But, when I picked up the mail — nothing, nada, zip, zero — no fibery goodness at all.
Today, it was delivered.  So, it's sitting out so I can admire the yarn.  It comes with two patterns and I'm going to dither for a while on which one to make because they're both so wonderful looking.  Hyperion says that if necessary we can buy a second skein so I can make them both — Isn't he the best?  Yeah, of course he is.
Anyway, now I have something to look forward to putting on the needles.  Each year I've read about the Rockin' Sock Club and wanted to join but just didn't seem to get my act together enough to make the sign-up period willing to spend the money.  Yeah, the world's going to crap in the economy/financial area but the past year has been very stressful for me with my health and there's some very inescapable commitments coming up that are inherently stress squared.  So, after talking with Hyperion and going over the budget we decided that I could join this year. [Hyperion here:  There's money and then there's life, and I know which is more important.  Gayle really loves knitting and fiber.  So if the Rockin' Sock Club can bring her some much needed joy, I say it's worth it at twice the price … or an extra skein of yarn so she can make the second pattern.]
Knitting after all, as every knitter knows, is way cheaper than paying a psychologist by the hour to listen to a litany of stressors that can't be fixed and can't be changed because they're a part of your life that is going to be there until…well, forever.  It's nice that some people can change their lives, but when a good part of the stress is pain because you have a body that doesn't function like it should — well, knitting is a way of keeping yourself centered so you can just keep on keeping on.
Once club members are allowed to post photos of their socks publicly, I'll be sure to post the one I chose to do so you can be as excited as I am about it.  Meanwhile, I'll touch the fiber and dream of really nice socks until finish this month's commitments and can cast on.
It's still cold.  It's still snowy out there.  But I'm smiling.