Browsing the Spinning category...
Today we went to Maryland Sheep and Wool. We had a great time considering we walked constantly from arrival to leaving — about 7.5 hours. Driving time 1.5 hours each way.
We're home now. My knee feels like it is the size of a basketball and my back is reporting that it's filing for a separation. If it wins, I guess I'll be flopping around but at least it won't hurt anymore.
We used the GPS to get there this time. We've got one and thought we'd give it a try. It took us off the route we usually take for the last few miles and at first we thought it knew some new way to get to the parking fields. Nope. It put us on a major divided highway and then announced we'd arrived at our destination. Of course we had arrived. The fact that our destination was just off the highway down a gully and over a fence separating it from the highway was of no concern to the GPS. We had a good laugh about parking on the highway and scaling the fence and took the next exit and backtracked to the actual entrance to the fairgrounds.
Crowds we thick on the grounds. We hadn't been for the last two years so we surprised to see whole new areas opened to vendors. I'll write more later but I've got to take some pain meds and ice a few bits of me. We took pictures but have no idea what will come out and what is fuzzy so will post those later.
It's amazing how tired one can get from fresh air and sunshine. I feel like I've been up and moving for a week — and a tough week at that.
Tags: Maryland Sheep and Wool
Trackback
• Posted in Hearth and Home
Had to rip out nearly an entire sock yesterday. I've managed to finish the toe so far but have a bit of a way to go until I get to the leg area where I dropped a stitch and didn't notice until it was way to late.
Is there anything other than knitting that teaches a person humility and the advantages of do-overs?
Worked on the garden again today. I'm doing things in 1/2 hour units. So far one per day (unless it rains). Between me raking and Hyperion hauling the leaves away we've got half of the side yard raked, 3/4 of the herb garden cleared, and the central area in front of the house.
Next up is to finish the side yard. Dismantle the existing square foot gardens. Replace those existing and rotting wooden sides with the new fake wood sided ones. This will allow us to have a garden area that won't need to be replaced every three years as the moisture, weather, rain, whatever takes its toll on the wood.
We've cleared the strawberry area and now I need to weed it out and then plant the new everbearing plants we bought. I hoped to get this done during the past week but the temps plummeted down into the 30's over night. So, meanwhile more yard work gets done.
Cut back all the raspberry plants so now their ready to go for this summer.
I'm hating being so limited by the fibro. I get a few good days and even when I really, really, try hard not to over do on my good days — I end up with a down-swing that lasts a few days. If it's not the pain it's the stultifying brain fog. — No wonder I keep having trouble with time management. It seems to slip away in the fog of fibromyalgia.
Got Gumshoe Review just about ready to go on April 1st. Lots left to do on SFRevu. One of the other associate editors managed to get an interview for SFRevu for April. Unfortunately, I've left Gumshoe's interview until quite late — I never have figured out how to ask interview question until after I read the book. I'll pull some questions together tomorrow and hope that once again a kindly author can manage to have time to answer a few quick questions.
Another month goes by without an artist interview on SFRevu. I feel really bad about that because there are so many that deserve to be spotlighted but it's that time management issue combined with the lack of other personnel who feel comfortable talking/asking about art with someone who does such excellent work.
Got to find a way to get more spinning into my life. I've got my spinning wheel sitting in the living room and a basket of lovely green roving waiting to be turned into yarn. I've even got a pattern I want to knit from this stuff. It's another time management issue.
Meanwhile, we've had so many days of grey skies combined with scattered showers that I'm pining for the color blue.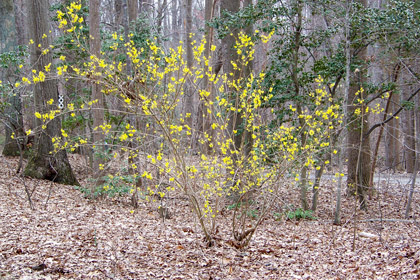 The one joy, or should I say one of the joys of life lately, is looking out my office window that faces the side of the house and the forsythia bushes which are cheerfully waving their bright yellow blooms — declaring that Spring is here and it's time to dance in joy.
It makes me smile. It doesn't matter what is going on in my life — those bright yellow flowers on their delicate stems bobbing up and down — dancing in the breezes — make me smile.
Life should be filled with things that make us smile. Sometimes it is the little things of life that are really the ones that count.
Trackback
• Posted in Health & Medicine