Browsing the World Fantasy Convention category...
This post is going to be a bit of a whine. We've been dealing with a lot of health issues this year and it seems that things get better and then they get not so very much better — meaning things slide downhill. I was just congratulating myself that I'd made it through Capclave okay with only a minor headache and a few muscle spasms. Then, I felt up for World Fantasy Convention (WFC) in Columbus, Ohio. Had a great time at both conventions.
Got a lot of exercise as well as fresh air walking about within a 1/2 to a mile of the hotel while in Columbus. However, had a couple of severe muscle spasm and a low grade migraine the last two day which got worse on the drive home to Maryland. The day before we left to come home, our cat sitter texted that the cat, Dorian, had a few accidents but was still greeting her when she came to the house and didn't seem lethargic.
Just after Christmas last year, Dorian had a severe downturn in his health but recovered and is known in the vet's office as the miracle cat because they didn't think he'd make it at all. He's got a heart problem and only 1 half of a functioning kidney and is 14 years old going on 15 (so in cat years that mid-70s). We got home to number of accidents (from both ends – use your imagination) throughout the house. We called the vet and took him right in. He was dehydrated and with really high levels in his blood work that indicate his kidney may be shutting down. They did some rehydration and gave him anti-nausea meds along with some other medications. We took him home and had to bring him in again today. He was there all day for treatment. His tests came back today much better in some way and yet still worrisome. He'll go in again tomorrow and then we may, depending on his test results, have to start making some very hard decisions about his quality of life. He's more active and moving about but seems not himself. I'm cautiously optimistic but still worried.
Afterall, what can you be but cautiously optimistic when the cat sits and stares at the bubbling water bowl for extended period so time. Maybe it is cat meditation. Currently, he's crawled under the lowest level of the cat tree and is not sleeping but probably contemplating the universe and his place in it.
Meanwhile, the magazines (SFRevu.com and GumshoeReview.com) went up as planned on November 1st. However, I still have some things to do — essential the reviews I was doing still need to be finished and added to the contents as well as writing the overview editorial for each magazine. Hoping that a good nights sleep will finally vanish the migraine — it is really hard to think clearly when someone invisible is using your head for an anvil.
If the headache finally eases off with a good nights sleep, I can finish up tomorrow while Dorian, the cat, is again at the vets. But, with so much stress my allergies and asthma have kicked in. This puts a bit of perspective on the migraines — though on the whole, lots of pain vs difficulty breathing seem to be in a tie.
Life goes on so far.
I really don't know what's got into me lately. It seems like I'm just dragging through the days in a fog. I'm sleeping a lot but never feel rested. I'd have thought by this time now that my Capclave was over, I'd begin feeling rested and revving up on all the things I had to put on hold for the past couple of months. Guess it will take a bit longer.
Meanwhile, I spent nearly a week entering all the books that came in between two days before Capclave and when we got back from World Fantasy in Columbus, Ohio. We had a great time at WFC. It's fast becoming one of my favorite conventions along with Readercon, Balticon, and our local convention, Capclave. I also enjoy Worldcon but haven't been able to go recently since they've been out of the country (USA) this past year. Other conventions, as much as I've enjoyed them, are just a bit difficult to get to because of the economy and my husband's lack of vacation/sick time (he's a contractor and gets set back to 0 when the contract changes companies — sigh).
I've been trying to catch up on some knitting. During the foggy brain days of gearing up for Capclave, I stuck to my plain vanilla sock knitting and got 1 and 1/2 socks done. Less brain fog and I'd have expected to finish 3 pair in that time. I've finally got the first sock of the first package for the sock club I joined at the beginning of the year. It's been sitting on the tray near my chair since then because — well, I sort of think I want to make the other pattern instead. I feel really bad about that because I ended up unraveling this sock at least 4-5 times trying to get myself to not over-think the pattern or go off without reading the pattern. I guess I picked this one because it seemed more challenging and it was. But, now that I look at the finished one — it's not really the type of sock I'd wear and the other pattern is. So, as soon as I get my courage up, it's the frog pond for this sock and starting the other pattern. I'll take a photo before I pull it apart and try to post that soon (check back).
Meanwhile, just watched the second season of Fringe. There's a lot to be said for watching an entire season over a week. The long term story arcs really jump out at you when doing that. I'll post a review to SFRevu soon and let you know where to find it when I get it up. I'd like to hear what you thought of it also. Feel free to post comments.
Time to take a break and go read for a while. Have a good evening.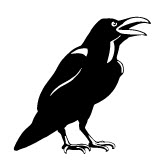 Just got back from the banquet and World Fantasy Award Ceremony.
Winners in BOLD:
Best Novel: This category had a tie.
The House of the Stag, Kage Baker (Tor)
The Shadow Year, Jeffrey Ford (Morrow)
The Graveyard Book, Neil Gaiman (HaperCollins; Bloomsbury)
Pandemonium, Daryl Gregory (Del Rey)
Tender Morsels, Margo Lanagan (Allen & Unwin; Knopf)
Best Novella:
"Uncle Chaim and Aunt Rifke and the Angel," Peter S. Beagle (Strange Roads, DreamHaven Books)
"If Angels Fight," Richard Bowes (F&SF 2/08)
"The Overseer," Albert Cowdrey (F&SF 3/08)
"Odd the Frost Giants," Neil Gaiman (Bloomsbury; Harper Collins)
"Good Boy," Nisi Shawl (Filter House, Aqueduct Press)
Best Short Story:
"Caverns of Mystery," Kage Baker (Tales of Dark Fantasy, Subterranean)
"26 Monkeys, Also the Abyss," Kij Johnson (Asimov's 7/08)
"Pride and Prometheus," John Kessel (F&SF 1/08)
"Our Man in the Sudan," Sarah Pinborough (The Second Humdrumming Book of Horror Stories, Humdrumming)
"A Buyer's Guide to Maps of Antarctica," Catherynne M. Valente (Clarkesworld 5/08)
Best Anthology:
The Living Dead, John Joseph Adams, ed. (Night Shade Books)
The Del Rey Book of Science Fiction and Fantasy, Ellen Datlow, ed. (Del Rey)
The Year's Best Fantasy and Horror 2008: Twenty-First Annual Collection, Ellen Datlow, Kelly Link, & Gavin J. Grant, eds. (St. Martin's)
Paper Cities: An Anthology of Urban Fantasy, Ekaterina Sedia, ed. (Del Rey)
Steampunk, Ann & Jeff VanderMeer, eds. (Tachyon Publications)
Best Collection:
Strange Roads, Peter S. Beagle (DreamHaven Books)
The Drowned Life, Jeffrey Ford (HarperPerennial)
Pretty Monsters, Kelly Link (Viking)
Filter House, Nisi Shawl (Aqueduct Press)
Tales from Outer Suburbia, Shaun Tan (Allen & Unwin; Scholastic)
Best Artist:
Kinuko Y. Craft
Janet Chui
Stephan Martiniere
John Picacio
Shaun Tan
Special Award, Professional:
Kelly Link & Gavin J. Grant (for Small Beer Press and Big Mouth House)
Farah Mendelsohn (For The Rhetorics of Fantasy)
Stephen H. Segal & Ann VanderMeer (for Weird Tales)
Jerad Walters (for A Lovecraft Retrospective: Artists Inspired by H.P. Lovecraft)
Jacob Weisman (for Tachyon Publications)
Special Award, Non-Professional:
Edith L. Crowe (for her work with The Mythopoeic Society)
John Klima (for Electric Velocipede)
Elise Matthesen (for setting out to inspire and for serving as inspiration for works of poetry, fantasy, and SF over the last decade through her jewelry-making and her "artist's challenges.")
Sean Wallace, Neil Clarke, & Nick Mamatas (for Clarkesworld)
Michael Walsh (for Howard Waldrop collections from Old Earth Books)
Lifetime Achievement Awards went to Ellen Asher and Jane Yolen.
Jay Lake did a wonderful job of setting up the ceremony and the award presenters did a great job of keeping things moving. Every category was strong and there were no losers in any of these categories as all people, books, and stories were more than worthy of the nominations.
Congratulations to all the winners.
Tags: Award Ceremony, fantasy, mystery, World Fantasy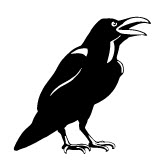 Finally got some sleep last night. Got up in time to get to the 10 am panel.
10 AM: Who, What or Why Done It.
Panelists: J. Kathleen Cheney, Laura Anne Gilman, Thomas S. Roche, Danel Paul Olson (Moderator), Chelsea Quinn Yarbro.
Panelists talked about mystery in the sense of the original Greek — that which makes us silent and blind. The difference between grue and frission and how enigma or doubt can be carried throughout a story and woven into the structure without either telling too much or not enough. Panelists agreed that the hooks need to be set in the first fifth of the book. Much discussion was taken up with the unknown and the unknowable and that Gothic Romances are great at keeping the differences of these two. Once of the concepts that I found interesting was that "Horror is fear of the unknown and terror is fear of the known". Unfortunately, I didn't catch who the quote was from.



Some phrases that came up and were interesting:
The writer controls the first impressions a reader gets of the character and after that the character is on his or her own.
The Why and How Done it are often more satisfying mysteries but they are much harder to write
Panther as pet.
Not so much Who Done it or What Happened but just how screwed are we?
11 AM: VanderMeer on VanderMeer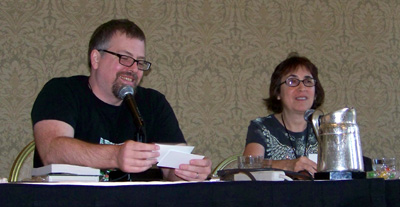 Panelists: Ann and Jeff VanderMeer interviewing each other.
This was great panel as the VanderMeers asked each other questions or told stories about each other that maybe people didn't know about them. Examples: Ann originally wanted to be a homicide detective. Jeff is an avid birder and tide pool explorer. Jeff is renouncing squid but he tends to use totem animals in his stories. Ann used to be in a rock punk band (back in the day). The audience enjoyed getting to know these two people better and the hour just rushed by.
Noon: Shelf Lives: The Art and Design of Book Covers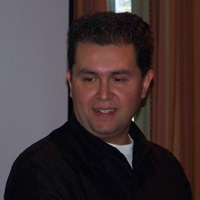 John Picacio, slide show
Picacio, through the use of a slide show of his work, led us through the thought process and stages that go into making a book cover. Picacio prefers to have read the book or at least read part of the book to get a feel for what the author is trying to accomplish. We saw beginning sketches that got more and more refined as the project proceeded. Using drawings, abstract color paintings, digital layering, and other techniques leading to a finished cover. This was a great look behind the scenes at how book covers go from concept to final cover.
We decided to break for lunch and then meet with some friends. We'd made arrangements to have coffee with Ann VanderMeer, who will be one of the Capclave 2010 Guests of Honor. While I was acquainted with Ann's work at Weird Tales and the anthologies that she's edited, I hadn't really had a chance to talk with her. She was gracious enough to take time out of her schedule to meet with my Vice-Chair, one of my Programming people, Hyperion, and me.
Next up was meeting with some other people who were at the convention to discuss various projects and ideas for improving our local convention and hopefully reaching out to more readers of science fiction and fantasy in the DC area for Capclave. This is another way of saying we missed the afternoon panels.
8 PM: Group Autographing.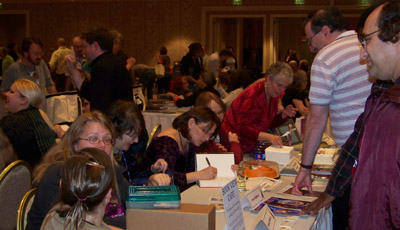 World Fantasy, rather than having a few authors sign during each time period, has one massive signing event. The Regency Ballroom was set up with tables and all the authors, editors, artists show up along with convention members who have books to be signed. A good time was had by all as there was also a cash bar and some nice munchies served at the same time.
[Hyperion: A couple more pictures of the Group Signing Event]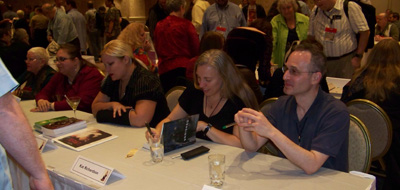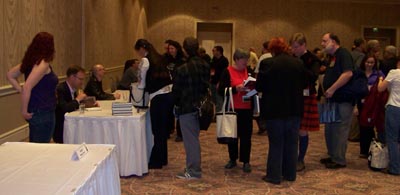 We later stopped by the Hospitality Suite for even more conversation. World Fantasy offers many opportunities for people in the field to just sit and talk about books, publishing, stories read, stories coming out, trends, and to meet new friends and connect with old friends. It's a convention where it's easy to get comfortable and talk about writing and stories with other people who are also passionate about fantasy in its many guises.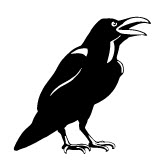 At first we didn't think we'd make it to this year's World Fantasy Convention. Hyperion and I are near championship procrastinators, but we manage to buy memberships from two people who couldn't make it at the last minute. Then plane reservations and a hotel room– we managed to get all our ducks in a row and get here (of course I had insomnia on Tuesday and we haven't slept since Tuesday night and it's now Thursday. We're holding out until west coast evening to try to sleep to get adjusted to the time difference between here and the east coast). [Hyperion: That's over 32 hours of up and at-em without a wink of sleep.  Just in case you're interested.]
World Fantasy celebrates the fantastic in literature. Each convention usually has a theme or idea around which the panels and program items play. This year celebrates the 200th birthday of Edgar Allan Poe. Poe did much to codify and promote the short story and to create an American Literature. Earlier we sat in on a panel called: Poe's Influence (4:00 PM). Panelists were Jon DeCles (moderator), John Paul Langan, John Levitt, and Kat Richardson.
Poe essential discovered Hawthorne. He also was an influence on Dickens, Lovecraft, many of the authors that wrote in a similar vein, and the early writers of Weird Tales. He also did much to influence the noir mystery genre. The panelists brought up many examples and kept saying how until they started putting their thoughts out there in the open they hadn't fully grasped just how influential Poe really was.
Known for his horror, poetry, and mysteries, Poe is still read today. His works are taught in schools or at least assigned in most high schools — somehow Poe is under the radar that seems to keep most genre writers off the curriculum.
There was also some discussion of alcoholism and the link there seems to be with writers and alcohol and musicians and other drugs. Much wondering was done about if he could write so much while smashed, what could have been done sober. Worth a ponder or more, I guess. Did the drinking keep him from being even more popular or not? Would he have been even better without his drinking — he'd for sure have been more popular during his lifetime.
Next was opening ceremonies where we were introduced to the Guests of Honor and each had a chance to speak. This year's guests are: Garth Nix, Lisa Snellings, Michael Swanwick, Ann VanderMeer, Jeff VanderMeer, Zoran Živkovi?, Donald Sidney-Fryer, and Richard A. Lupoff. The Toastmaster is Jay Lake who did a masterful job of keeping things moving with no dull moments.
We're pretty much in need of a good nights sleep in order to get our brains rebooted. As you can tell — I completely forgot and left my camera in our hotel room. Tomorrow I'll try to do photos — really.
I spent most of today trying to catch up on all the TODO notes I have hanging about my workspace. Tomorrow is our last day to get stuff done for the November issues of SFRevu and Gumshoe Review before leaving for San Jose, CA and the World Fantasy Convention.
We leave in the middle of the night on, or early Thursday morning, depending on your point of view. We'll be posting about the convention because we're attending specifically to cover it and to talk with other people in the field (and hopefully get a chance to get to know the Capclave 2010 Guests of Honor).
I'm really looking forward to the convention but dreading the ordeal of airport security. I don't do really well standing in lines and not being able to pace. For some reason I get dizzy and feeling weird if I have to stand in one spot for any length of time. It would be easier to face if I actually believed that all their security theater actually made me safer but let's face it, most of us know it doesn't make us safer, it just is so inconvenient that we start to believe it must have some positive result. Anyway, that's just my opinion and I haven't seen any thing to make me change it lately.
So, now I have to decide what to bring to read on the plane/in the airport/while waiting in long lines. I'll most likely end up with the books that I haven't gotten to yet and I'm supposed to review by November 1st. This month has been unreal in its ability to gobble up my time. More about time in another post.
Tags: Capclave, fantasy, Gumshoe Review, SFRevu
Got up very early — got to the convention (very early for us) — saw stuff. Then drove home — 10 1/2 hour drive. I'm bushed. Will re-edit this post and finish Sunday's report tomorrow.
Continued:
Well Monday turned out to be Wednesday but here's the rest of my report.  When we arrived on Sunday, we met some people and chatted and then got to the 10AM panel on What Are the Taboos in Fantasy Today? Panelists: John Grant, Tom Doherty, Sharyn November (moderator), Lucienne Diver, and Steven Erikson.  Description: They shift with the times. Is the writer ever really free to write about ANYTHING?
Basically, the panel agreed that if the story is strong enough just about anything goes even though if a taboo is broken it means reduced sales and limited markets. Bestiality seemed to be the  big taboo of today — however, there has been at least one YA book published with bestiality in it. One of the panel members had turned down the book but it was published elsewhere. Some things that weren't taboo in the past are taboo now (smoking was one that was mentioned).  Explicit sex is out — panel preferred a shirt on the back of the chair and it's morning to descriptive narratives (because they're very difficult to write and they don't want to read them).  One interesting point on bestiality was that if the characters are werewolves they can have sex in human form but not as wolves or one wolf/one human. While the panel could understand the human/wolf taboo — the wolf/wolf taboo didn't make sense to some or to some of the audience either.
The last panel that we went to was Urban Fantasy–Beyond the Usual Suspects. Panelists: Jenna Black, Marie Brennan, Ernest Lilley (moderator), Ekaterina Sedia, and Melanie Fletcher. Descripton: It seems as if most urban fantasy uses the familiar European myths. What other possibilities are there? Which authors have successfully exploited them?
This panel certainly got a lot of emotional steam going once they got to cultural appropriation or using myths and icons of a culture not your own as a basis for a story/novel.  It's at this point that while they understood the need to be sensitive to the members of a culture and that most of the myths and icons of one culture show up in others under different names and couldn't they be used without harming the culture since it existed in my culture too but under another name?  (If that didn't quite make sense but you got the gist that would explain why after 50 minutes there was still a lot to be said and no one agreed totally on rules that would indicate when you could or couldn't use bits of a culture not your own in a story.   Quite an interesting conversation and I'm sure anyone could recreate the conversation with their own friends just by listing the discussion descripition and adding the phrase "Cultural Appropriation".
We didn't attend the banquet where the World Fantasy Awards were handed out but there is a list of the winners on SFRevu in the News Column.
I'm beginning to think I just don't get mornings. It was another late start — even later than yesterday. Anyway, we finally reached the convention center only to realize that I forgot my tags back at the hotel. It seems I took them off and put them in plain sight on the desk but in the course of moving things last night they got covered by my sweater-in-progress so in the morning rush I didn't see them and totally forgot. So, sitting down to knit on my socks — my wonderful husband got me a cup of coffee (I think he figured me awake was better than me in a coma) and then drove back to the hotel to get my tags. While knitting I spoke to some people who also were in search for coffee (the con suite had coffee still). Also, discussed the writings of Charles de Lint with some people who'd just bought a copy of Little Girl Lost in the dealers' room. Several of us sitting about started listing our favorite novels and stories and our sadness that he hadn't made it to World Fantasy this year. Paul got back with my tags and off we went to panels.
First up was The Victorian Era as Setting. Panelists: Tiffany Trent (moderator), Tamara Siler Jones, Kim Newman, Nancy Kilpatrick, and Barbara Roden. Description: We still gravitate to it. Is this merely by association, because so many great ghost stories were written then, or is there something inherent about the Gaslight Era which is inherently spooky? Discussion ranged over a lot of topics and rather than try to attribute comments I'll paraphrase and collapse and any misrepresentation is mine. The staples of the Victorian Era seems to include atmosphere of the time, understatement, excitement of scientific discovery, and acceptance or obsession with death. It was a time of tremendous change the invention of radio, electricity, flight, formation of mass media, beginning of genre in writing. Most of our classics of the various genres come from this era (Dracula, Sherlock Holmes, Utopian literature). There was also a great disparity between the have and the have nots, light & dark. There was also a belief in the supernatural but they always expected there would be a scientific explanation for it eventually. There seemed to be a great deal to write about in the area between the extremes of the era.
Next, it was Ghosts and Revenants Down Under. Panelists: Robert Hood, Deborah Biancotti (moderator), Jack Dann, Kaaron Warren, and Garth Nix. Description: Does Australia have its own unique take on the ghost story? Is there something different about the dark fantasy from Down Under? A group of Australia's best writers and editors discuss the Australian scene today. This panel in many ways was more a discussion of culture. Most writers write from their cultural heritage and Australia's is pretty much a European/American mishmash. They can't really use Aboriginal tales and stories because it's a very touchy business to do so. The Aboriginal people feel that the Europeans have stolen their land but they will keep their own stories for themselves. Aboriginal authors can and do use their myths and stories in their writing (although only from their own particular family group). However, using the European legends and tales and mixing it with their own cultural identity and mixed with a dangerous landscape that is often a character in its own right make for some interesting twists and differences in tales between UK/US/Aus.
It was mentioned that Australia has 7 of the 9 most deadly poisonous snakes in the world. That most, if not all, of the wildlife (snakes and spiders were topics covered) are poisonous and differ only in how long you have to get to an antidote before you die. Then discussion turned to whether the surrounding Asian countries were having an impact and they are — and gaining as more and more people move in. They talked of movies/TV/etc where they receive a lot of Asian material with English subtitles long before they show up in the US or England.
Following the panel, we went to a reading of YA authors. The authors: Tiffany Trent, Sarah Beth Durst, Holly Black, and Cassandra Clare. I really love readings. You get to hear an author read a piece of their own work. For me, it seems to set a voice so that when I later read the work, I continue to hear it read in the author's voice with their intonations and phrasing. Holly Black read a scene from Ironside. Cassandra Clare read from her second book City of Ashes (not yet out). Sarah Beth Durst read from Out of the Wild, a sequel to Into the Wild. Tiffany Trent read from her second book of the Hallowmere series (I forgot to write down the title, sorry). The problem with readings is now you have to wait for the story or book to be published.
Next a supper break. Walking in the brisk evening air to a restaurant and a discussion of the panels we'd seen. Everyone shared their impressions of the panels we'd seen so far and discussed books, authors, writing, and publishing in general.
I was a bit late to Joseph Bruchac, "A Voice from the Dark: Native American Ghost Stories of the Northeastern Woodlants". He kept everyone spell bound telling stories of Toad Woman, Skeleton Man, Windingo, and about music. It was fun, interesting, informative, and the hour sped by so fast it seemed like seconds.
We'd planned to go to the Art Show Reception and some parties but ending up joining a group of people talking in the hallway (chairs and tables and comfy couches encouraged this behavior) and next thing we knew the conference center staff were blinking the lights to get people to clear out of the area — so it was back to the hotel to get this written up. Tomorrow is the last day of the convention.