Highland Knits: Knitwear Inspired by the Outlander Series by Interweave Editors, Interweave (April 28, 2016) ISBN: 978-1632504593, Trade Paperback, 112 pages. List Price: $22.99 (Amazon: $15.63 / Kindle: $11.99).
I loved the knitted items that I saw watching season one of Outlander so I was naturally interested in seeing what would be in Highland Knits. I was impressed that the items were definitely in keeping with the simplicity and usefulness. The book has patterns for four Cowls, two Caplets, two Gauntlets, one Arm Warmer, one Shawl, one Shurg, one Wrap, one scarf, three Boot Cuffs, and one Stockings.
About half the patterns call for bulky or chunky yarns and seem like they'd knit up fast. The rest of the patterns call for worsted or Aran yarn. So basically all the pattern are geared to keeping you warm and snug on those crisp fall days and nights and the colder winter weather. All of the patterns are classic enough to fit into current fashion for keeping one warm and different enough to stand out as special.
I read the digital edition. Sometimes knitting ebooks are difficult to work with because the photos are small and charts are hard to read. Highland Knits handled this by making all the photos and charts enlarge to screen size with a double tap. Some patterns are only written and others are written and charted. When there is a chart it tends to be simple so screen size is not the problem it would be with a complicated pattern.
I feel in love with the photo showing the Brimstone Faux Fur Cowl designed by Claudia Maheux. The yarn called for was Louisa Hardings Luzia (80% viscose, 20% nylon; 43 yeards/39.5 meters per skein, 7 skeins) and was listed as bulky. Knit on US size 10 straight needles. Reading over the pattern I wondered how faux fur yarn which I'd looked at often in various yarn stores could be called 'bulky' but then it said to use two strands held together. It seemed like an ideal pattern to try to learn by doing just how clear the directions actually are to follow. But I ran into a few snags.
The first snag was that the yarn that was called for was out of stock — and several sites implied it was no longer made — and the few places that carried it had prices that were marked up a lot — imagine 10 times or more the original price per skein which was rather high to begin with. Yeah, there was that to burst my bubble. But with Goggle-Fu, I managed to find several yarns that seemed to meet the criteria of the original yarn. I ended up using James C. Brett Faux Fur which I purchased from Loveknitting.com. It comes in several different shades and I choose a silver-ish version listed as H2. Each skein was 90 meters or 98.42 yards. The yarn is 90% Supersoft Nylon 10% Polyester. I ordered 4 skeins and doubled it was just enough as I had barely any left at the end of the project. Total project cost was about $26.00 US. The yarn is hand wash only and dry flat.
Here are two photos of the finished cowl. A front view and a side view. It's very thick and heavy and my hubby was kind enough to model it for me while I took pictures. It's also very, very warm.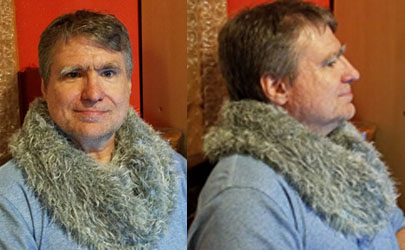 My real problem came at the end of the project. When starting the pattern called for a provisional cast-on. The Glossary had directions for the Provisional (Crochet Chain) Cast-on. They were very clear and I followed them and had no problem getting the project started. The problem all came at the end when you pull out the crochet chain to expose the live stitches. That's where it all when pear-shaped. The crochet chain wouldn't pull out or at least it wouldn't pull out easily. So, while I knit the cowl over 4 evenings it took me a few hours per night (or until I couldn't keep my frustration in check for a week to manage to pick up the stitches. Even then I wasn't sure I had all the live stitches, I'd seemed to pick up several extra as I tried to free the crochet chain from the live stitches but a little judicious pulling didn't seem to generate any runs so I called it a win.
Next was to use the Kitchener st to join the beginning of the cowl to the end of the cowl to close the circle. This was faux fur and very fluffy it was difficult to see individual stitches using two strands together and I'd just fought a valiant battle with the crochet chain my reading glasses and a magnifying glass to finally get the 55 live stitches recovered so … I decided to do a three-needle-bind-off instead. The three-needle-bind-off was a lot easier on my nerves, solidly melded the two ends together and, more importantly, with the faux fur was hard to identify or see among the fluff of the fur.
I believe the provisional cast-on would have worked well if the yarn had been smooth but with the faux fur it just exceeded my personal capabilities and I should have realized that when I started. However, the final project came out beautifully and I'm looking forward to using it when I need warmth with a bit of class or even just when I feel I want to look special for me.
Looking over the patterns in this book there were several that looked great for gift giving as they used bulky yarn and would knit up quickly. This particular cowl that I made would have only taken several hours from start to finish if not for the provisional cast-on problem I ran into. I spent more time looking for a substitute yarn than actually knitting — if I don't count the time trying to finish it off.
Check the book out online by using the look inside option. I think it is a good one to have on hand for making truly useful and stylish cold weather accessories.